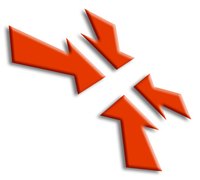 SWOT analysis as a strategic planning tool has gained mythical significance in business circles. Contrary to popular believe, the SWOT process does not require the use of fancy graphics or taking an expensive planning course. No matter your business size, SWOT analysis requires a business to take a clear-eyed look at the internal and external forces driving its business. Honest assessment can allow a company to redefine its products and services, remaining relevant to the customers it serves.
Definition
The initials "S-W-O-T" stand for: strengths, weaknesses, opportunities and threats. These four words represent a way to audit a company's business activities. Conducting a SWOT analysis is the first stage of planning and helps business leaders to focus on the key issues that will impact business success.
While the term sounds like four different business areas, it breaks into two clear segments. Strengths and weaknesses are internal success components. Opportunities and threats are external success factors. To be most effective, SWOT analysis should be done for product or business segments, not entire companies, as the goal of product segments is typically to balance out the peaks and valleys of a company's performance.
Focus on Internal Success Factors
Beginning with strengths, create a list of your product's strong points. It may be a new product innovation that places you far ahead of your competition, your company location, high employee morale, or processes that allow you to serve customers faster or better than anyone else. Next, honestly list your business weak points. Whether it is a damaged reputation, lack-luster products, slow service, a bad business location, or untrained staff, get weaknesses into the light of day. You cannot begin to deal with what you will not admit.
Focus on External Factors
Most businesses enjoy brainstorming their opportunities. This is where "what if" comes into play. What if we....opened a new international market, merged with company XYZ and took over the market? What if we...created an entirely down-loadable service product, or extended the line to include a completely self-adjusting frame? What if competitor AB goes under, how many of their customers can we capture?
However, spending time and attention on opportunities--without facing your threats--is a dangerous "head-in-the-sand" ostrich approach. You need to admit your challenges. Whether mired in a price war, facing a new and superior competitor's product, the loss of one of your major distribution channels or simply a bad business environment, tell it like it is. Remember that doing a SWOT analysis is subjective. One person's bad news can be another's shining opportunity.
Putting SWOT to Work
When conducting your SWOT analysis, always compare your business to the competition. Are you better or worse at customer service? Are your products priced at, above, or below your competitors? Is your business image more positive in customer's minds than your competitors or not as strong? Is your physical business better or worse than your competition?
Distinguish between where your business is today from where it could be in the future. Don't be too analytical, just honest. Being realistic is the key to building an actionable planning strategy. A business of any size can conduct a SWOT analysis, but a few examples with social significance will demonstrate how to get the most from the process.
The Starbucks SWOT
Starbucks is a social phenomena, the market leader in the coffee market, but it wasn't always that way. It began as a counter-culture movement against commercial coffee, with a quality product based from a unique social-experiential gathering place. It still is.
Starbucks brand remains blue chip because its expansion capitalized on convenience while never compromising it's quality. But it's prices were, and remain, steep. It grew, perhaps too quickly. While it has expanded internationally and still has plenty of room to grow, it's once unquestioned leadership has spawned dozens of similar competitors, which like it, may not be as recession-proof as earlier thought.
Dell Computers SWOT
Dell turned a relatively unknown brand into a custom powerhouse by focusing it's resources on manufacturing efficiencies, custom design and online distribution. But its complete lack of proprietary software, and inability to make market share headway with the student education market, crippled its growth. It has built a strong government business based on its security claims and has international expansion opportunity, but faces technology and cost containment problems due to supplier reliance and fierce competition.