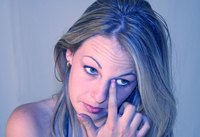 Dark yellow, green or clear discharge oozing out of your eye is an indication of a serious problem for contact lens wearers. Itching, burning, redness and excessive tears also mean potential infection. Knowing what to look for and taking a few simple precautionary steps can eliminate trouble and eye infections from your contact lenses.
Significance
Discharge coming from your eyes, whether or not you are wearing your contact lenses at the time, is caused by allergies, bacteria, makeup, chemicals or from your contact lenses not fitting correctly. Even just a little oozing, with or without other symptoms might mean infection or other problems with your lenses and is an indication that treatment is required.
Wearing Schedule
Follow your prescribed wearing schedule to help avoid potential eye infections. Over-using contact lenses by keeping them in too many hours, or sleeping in contacts that are not prescribed for overnight wear can lead to discharge and eye infection.
Cleaning and Storing Solutions
Use only the specific type of contact lens cleaning and storage solution prescribed for your lenses. Disinfecting or rinsing your lenses in the wrong type of chemicals can cause infections and discharge. Do not use expired contact solutions. Infections from fungus, mold and yeast are a serious problem and more common in warmer climates, such as the southern part of the United States, according to the website, doctorfungus.com.
Water Problems
Do not rinse your contact lenses in plain tap water or let your lenses come into contact with other sources of non-sterile water. According to the Ohio State University Optometry Services, you should remove contact lenses before any activity that includes water, such as swimming, bathing or using a hot tub.
Lens Fit
Lenses that do not fit properly cause trouble for contact lens wearers. Occasionally a lens will loosen or tighten without you realizing the change in fit or the surface of your eye can change shape, causing problems with the way the lens conforms. Your eye doctor will check the fit of your lenses if you have symptoms of infection, including discharge.
Treatment
The most significant part of treatment for discharge in your eyes involves abstaining from contact lens wear. Do not wear your lenses at all if you have any discharge or other symptoms of infection. Your doctor will prescribe antibiotics or other eye medications if necessary to help your eyes heal and will determine when you are able to start wearing your contacts again.
Considerations
Schedule and appointment with your eye care practitioner if you have any type of discharge from your eyes or if you have blurry vision, painful or red irritation or the sensation of something in your eye.