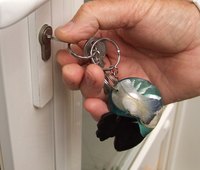 Private mortgage insurance (PMI) makes buying a home with less money possible. PMI eliminates the need for a full 20 percent down payment and protects both the buyer and the lender in the event of a foreclosure. PMI now allows lenders to lower their minimum down payment requirements, allowing more people to live the American dream.
Purpose
Mortgage Lenders require PMI when the loan-to-value (the amount owed vs. the amount the home is worth) exceeds 80 percent of the value of the property; $85,000 owed on a $100,000 home equates to 85 percent loan-to-value. Typically, a foreclosed home sells for less than full value and may sell for less than the mortgage balance. The PMI pays the lender the remaining balance owed, along with any costs involved in foreclosing and selling the home. PMI enables lenders to offer loan-to-values of more than 80 percent, thus reducing down payment requirements while protecting the lender against losses.
Benefits
Homeowners put less money down and refinance a larger amount of their home's value because of the protection PMI offers. In the event of a foreclosure, PMI protects homeowners from the compounded issue of owing money on a loan for a home they no longer own. PMI is normally tax deductible, just like the interest paid on the mortgage; check with an accountant to see whether this condition applies to your situation.
Cost
The cost of PMI varies based on loan specifics. Calculating PMI rates requires using several variables factored into the cost. These variables include loan amount, loan-to-value (the higher the percentage, the more it will cost), borrowers' credit scores, type of home, occupancy type and the state in which the home is located. Basically, the riskier the loan and higher the loan amount, the costlier PMI becomes.
Removing PMI
Most homeowners request removal of the PMI once the loan-to-value is 80 percent or less. Homeowners reduce the loan-value to 80percent by paying down the loan's balance, using the appreciated value of the home or a combination of the two. The Homeowners Protection Act of 1998 requires automatic removal of PMI once the homeowner has 22 percent equity, or 78 percent loan-to-value; it also allows the homeowner to request removal once the loan-to-value is 80 percent.
Expert Insight
Homeowners with excellent credit profiles leverage PMI as a tool to purchase or refinance a home with less than 20 percent equity. Each state's laws affect the availability and cost of PMI differently. For example, the state of Florida imposes a 1 percent tax on mortgage insurance. Second mortgages provide an alternative way to avoid PMI and still not put 20 percent down. As always, every situation requires a unique solution; don't be afraid to ask questions and know what you are signing at the closing table.