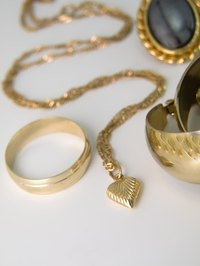 There's a good chance your jewelry contains 14 karat gold which is a combination of gold and other metals; this combination is called an alloy. The percentage of gold in an object is measured in karats with 24 kt being the highest. The features of 14 kt gold depend on the alloy that contains 14 karat gold.
Identification
Sometimes the fineness of gold is referred to as carats which is an erroneous use of a similar term used in gemology. The amount of pure gold in 14 karat gold is 58.5 percent; 24 karat gold is 100 percent gold. Another description of 14 karat gold is "585 fine", which is a European metric and is calculated by multiplying the percentage of gold by 10. The scientific symbol for pure gold, or 14 kt gold when separated from alloy is Au.
Facts
Gold has several physical properties that help distinguish it from other metals. For example, gold melts at 1947.524 degrees Fahrenheit; that's about two point seven times hotter than the average surface temperature of the planet Mercury, and about six times the standard baking temperature of turkey in a conventional oven. When melted, 14 karat gold alloy will melt at a different temperature than 24 kt gold.
Price
The cost of jewelry with gold in it is not necessarily proportional to the corresponding price of the percentage of actual gold in the jewelry. Gold is traded in commodities markets that reflect the most current commercial spot price of gold. The value of gold is determined by its weight in Troy ounces and 1 Troy ounce is equal to 31.103 grams. A regular ounce is 28.349 grams for a difference of 2.754 grams.
Types
All gold except 24 karat gold can come in many shapes and forms. It can be combined with a number of other metals including silver, copper, nickel and cadmium. The type of metals gold is mixed with will affect its color. For example, 14 karat rose gold is comprised of 58.5 percent gold and 41.5 percent copper. Several gold colored alloys can be made, including, but not limited to white, green and purple.
Warning
When purchasing 14 karat gold be weary of its authenticity. Retail gold claims can sometimes be misleading or false. A sure fire way to discover if gold is 14 karats is to have it professionally tested or purchase it from an authenticated dealer. Gold does have some properties that distinguish it from other metals however. For example, apart from the alloy color, no other color should appear on the surface of the gold.