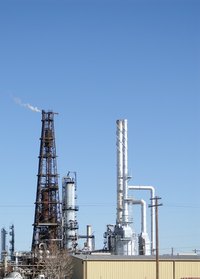 Most businesses in a state are able to get admitted insurance; however, there are some high-risk or complicated businesses that have needs that can't be met with policies in their state. They might need liability limits that are too high or have operations that no other insurance company can cover. In these situations, customers can go to non-admitted insurance companies.
Definition
Non-admitted insurance, also called surplus lines insurance, is generally out of state and not held under the same rules and regulations as admitted insurance. It is also not protected by the state from insolvency. For admitted carriers, the state will step in when a company goes bankrupt and will continue to pay benefits and claims; non-admitted companies are not protected by this fund. By freeing the company from some of the state regulations, it makes it possible to create policies for unique or high -businesses that would otherwise not be able to find insurance. Some of the changes this allows companies to make are higher insurance limits, higher deductibles, additional amendments or additional exclusions that might not be allowed on admitted policies.
Regulated
Non-admitted insurance is still regulated. Agents must be licensed in surplus lines to sell non-admitted insurance. Every state has different laws and regulations regarding non-admitted insurance. States also conduct audits to make sure the companies selling non-admitted insurance are complying with the rules on sales, solvency and taxes. To sell surplus lines, companies also have to either a large reserve of money or re-insurance, which is basically insurance for insurance companies, to make up for the fact that they are not protected by the state from insolvency.
Taxes and Fees
States charge taxes for non-admitted insurance. When a business gets a quote from a surplus lines agent or broker, it will have taxes and fees on it. This is an easy way to tell if the company is getting a quote from non-admitted insurance carriers. States regulate the amount of fees that can be placed on accounts. These amounts and commissions have to be disclosed on all quotes for surplus lines.
Declined From Other Carriers
To qualify for non-admitted insurance, a business typically has to be declined by other insurance carriers. It is meant to be for companies that cannot find insurance elsewhere. Surplus lines carriers have to keep track of who declined the clients and must show this information if asked when audited.
Benefits/Draw Backs
Non-admitted insurance has a purpose and is not better or worse than admitted insurance. It is helps complicated or high-risk companies find insurance. It helps states by insuring companies that would not be able to find insurance otherwise, and they earn taxes on it. And it helps insurance agencies by giving them flexibility to develop creative policies that they otherwise could not create to help unique businesses.