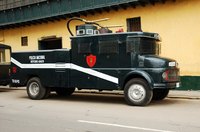 The Internal Revenue Code provides tax incentives that allow businesses to deduct additional expenses. One commonly used incentive is Internal Revenue Code Section 179: Election to Expense Certain Depreciable Business Assets. The Section 179 expense election gives business taxpayers the option to expense capitalized items that are otherwise depreciated. If used correctly, Section 179 has a positive effect on a company's bottom line.
Identification
Depreciable business assets are major assets that are used for long periods by a business entity. Generally, the longevity of an item determines the period of time in which an item is expensed. An office supply, such as a pen, is used and expensed immediately. On the other hand, machinery can be used for five years and expensed over a five-year period. Code Section 179 allows businesses to expense major assets in the current year, rather than over the useful life of the asset.
Eligibility
The Section 179 expense election applies to new or used business property purchased for use in an active trade or business. Examples of qualifying property are vehicles and machinery. However, Section 179 doesn't apply to land improvements, buildings or other items considered real estate. In addition, the code section is often revised to adjust the maximum dollar limitation of the expense election. According to the "2009 U.S. Master Tax Guide," the total cost of property that may be expensed for any tax year cannot exceed the total amount of taxable income.
Election
Businesses elect to expense property under Section 179 on Part I of Form 4562, Depreciation and Amortization. Form 4562 provides the maximum dollar amount a business is allowed to expense under the code section. In addition, the form requires a detailed description of the property and the cost of the property. Form 4562 is submitted with a company's annual income tax return. According to the Internal Revenue Service (IRS), the election will be revoked without obtaining IRS approval by filing an amended return.
Tax Implications
Electing to use Section 179 directly reduces the taxable income of a business entity. Section 179 is a common tax-planning tool used by many business owners. Typically, business owners wait until the end of the tax year to buy major assets. The owners then determine the amount of purchases that are needed to bring taxable income down to $0. Section 179 is an annual election; therefore, a business may elect to expense depreciable assets each tax year.
Other Bonus Depreciation
In times of natural disasters, legislation is enacted to increase the maximum dollar amount of depreciable property that's eligible to be expensed. The dollar limits are not increased under Code Section 179 but are increased under separate acts. The instructions for Form 4562 provide a summary of enacted legislation for the current year and list dollar limitations that apply to different regions in the United States.