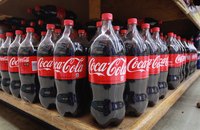 National brands are branded products mass-produced and distributed around the country. They are distinct from private label brands in that the company name on the product has a significant effect on perceived value. National brands dominate much of the retail sector, but they face stiff competition from more affordable private labels.
National Brand Advantages
National brands distinguish themselves from private labels with advertising that promotes superior benefits. Product quality, a proven reputation and organic materials are a few examples of attributes tied to national brands. An established national brand has cache with the marketplace. People recognize popular national brands, and a significant number of customers are willing to pay more money to buy a trusted brand.
National Brand Disadvantages
The primary disadvantage faced by national brands is a higher price point. Private label, or generic, manufacturers have scaled-down operations that allow for lower costs. Price-conscious consumers often put low price first and don't listen to the quality messages in national brand advertising. When the economy sours, more consumers seek low-price alternatives relative to quality-focused national brands.