Age spots, or skin pigmentations due to increased melanin, can appear as a result of skin contact with certain foods or chemicals.
What Are Age Spots?
Often referred to as liver spots, age spots can develop gradually on the skin because of many environmental factors. An age spot results when excess melanin pools in the skin, causing a darkened circle to appear. Melanin can be attracted to a certain area of the skin for a number of reasons. Sun exposure is a common culprit, and certain foods or chemicals such as psoralens when left on the skin can augment the impact of sun exposure. Eating foods will not cause this damage, but handling them may.
Effect of Psoralens
The chemical psoralen, found in many foods, can increase the risk of age spots when it comes in contact with the skin, increasing skin's sensitivity to UV rays and making it easier for sunburn and damage to occur. When the skin is damaged by the sun, melanin collects and age spots will eventually appear.
Psoralen is used to treat vitiligo, a skin disorder resulting from a lack of skin pigmentation. Patients apply psoralen to the skin to speed up tanning and color the skin.
Foods That Contain Psoralen
Avoiding psoralen-containing foods may reduce the risk of age spots. Psoralen can be found in parsnips, limes, parsley and celery. Handling these foods allows the psoralens to collect on the skin. Once there, they will attract and absorb ultraviolet rays, and put the skin at increased risk of damage. You can handle and prepare these foods using gloves and eat them with utensils without putting yourself at risk.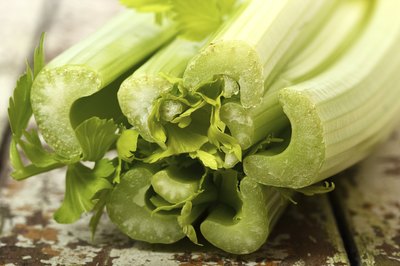 Safe Foods to Eat
Most fruits and vegetables will not cause age spots. In fact, those rich in antioxidants might actually prevent melanin collection in the skin by protecting it from UV rays. Berries, pineapples, kiwis and grapefruits are very high in antioxidants and do not contain psoralens. For vegetables, try kale, artichokes, spinach and red beets for more protection and less risk.
Other Factors
Age spots are caused by various factors including sun exposure. Heredity plays a large role in the development of melanin deposits below the skin. Some antibiotics, such as tetracycline, and diuretics can increase the risk. All of these factors make the skin more sensitive to the sun, resulting in age spots.