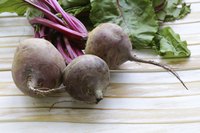 What you eat is an important part of the treatment plan for high blood pressure. Vegetables like beets contain nutrients that play a role in the regulation of blood pressure, and beetroot juice may be especially beneficial. Consult your doctor to discuss how beets fit into your diet plan for high blood pressure.
Nutrition for Blood Pressure
To manage your blood pressure, the American Heart Association recommends a diet filled with fruits, vegetables, whole grains, low-fat or fat-free milk, beans, lean meats and poultry and fish. Certain nutrients in these foods are especially helpful in managing blood pressure, including fiber, potassium and magnesium.
Potassium helps lower blood pressure by increasing your body's ability to excrete sodium. Magnesium helps with blood pressure regulation, and upping your intake may help improve your numbers.
What's in Beets
Beets are low in calories and a good source of fiber and potassium. They also contain a small amount of magnesium. A 1/2-cup serving of sliced boiled beets contains 37 calories, 1 gram of protein, 8 grams of carbs and 2 grams of fiber. Men need 30 to 38 grams of fiber a day, and women need 21 to 25 grams.
The same serving also contains 259 milligrams of potassium and 20 milligrams of magnesium. For adults, the recommended dietary allowance for potassium is 4,700 milligrams a day, and the allowance for magnesium is 310 to 420 milligrams a day.
Beetroot Juice and Blood Pressure
Beetroot juice is rich in dietary nitrates, which may help lower blood pressure by relaxing blood pressure walls and improving blood flow, according to the American Heart Association. A small study published in "Cardiology Research and Practice* in 2013 investigated the effects of beetroot juice on blood pressure in a group of healthy women and found the juice helped lower blood pressure. While beetroot juice certainly can fit into your diet for blood pressure, more research is necessary before health claims can be made.
Beets in Your Diet
If you buy canned or jarred beets, read food labels to look for varieties low in sodium. Some pickled beets can have as much as 300 milligrams of sodium in a 1/2-cup serving. To limit your intake of sodium, use fresh beets instead. Enjoy them raw in a salad, or roast them in the oven and eat them as your veggie side dish. You can also slice and grill them.