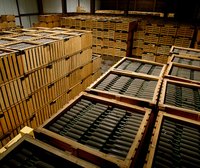 Inventory control is the process of adopting procedures to limit the total cost of inventory. Control procedures include balancing requests against funds which are available for items or products in inventory, purging storerooms of stock which is no longer needed and keeping an adequate stock level of items for order fulfillment. Inventory control is a major operation of a logistical company or organization which handles receiving, storage and distribution of items.
Reorder Points
Reorder points are levels established by management which consider the order history of an item and the point at which it travels through a requisitioning cycle. Inventory control software can be programmed to automatically establish reorder points for certain items. For example, if a stock level is established at a level of 10 and its reorder point is at a level of three, when seven products are sold, the computer automatically creates a requisition to replace those seven items. The order would have met the calculation for reordering (10 – 7 = 3). Reorder points affect fast-moving items by getting requisitions ordered in a timely manner.
Stock Level Management
Stock level management is the ability to analyze stock and create stock balance in an inventory account. Excess inventory can cost an organization money while an inadequate amount of inventory can cause delays in the transfer and movement of property or goods. Stock level management calculates the history of an item according to purchasing history, reorder levels and customer demand. Transaction reports, produced by an inventory accounting system, list stock levels by last order date and help management make decisions concerning stock level adjustments.
Specialized Inventory Procedures
Inventory control also consists of establishing a physical inventory of products by creating inventory schedules for warehouses and stockrooms. During a physical inventory, items and stockrooms are flagged for special handling and recording of inventory. Inventory control software can alert personnel of items under special review. Inventory control managers set schedules and dates for physical inventories to be completed.
LIFO and FIFO Methods
LIFO (last in, first out) and FIFO (first in, first out) are methods which logistical organizations use in storage and accounting of items with no shelf life or expiration date and items with an expiration date. LIFO accounts for items with a "no sell by date." An example of LIFO inventory is a warehouse full of aviation parts stored by McDonnell Douglas. FIFO marks items which are perishable with an expiration date such as milk, eggs and cheese in a local supermarket which must be sold in a controlled environment by a certain date. Both methods affect cost accounting of an inventory control system. LIFO products move slower and FIFO products are fast-moving items which are in high demand.
Technological Advances
Technology in inventory control has improved methods of accounting and controls concerning the physical layout of logistical operations. Most warehouses and distribution systems operate by using a mixture of management information systems, human labor and robotics. Bar code terminals are used to scan items into inventory and local area networks (LANs) provide management with access for review of critical data.