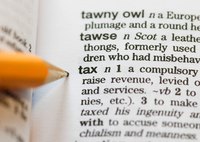 Employee stock ownership plans--ESOPs--benefit from tax incentives enacted by Congress for both companies and employees who participate, states the National Center for Employee Ownership. Companies contributing to ESOPs can deduct dividends on ESOP-held stock.
Contributions Deductible
Employers can deduct up to 25 percent of covered payroll to contribute to ESOPs. C corporations can also contribute an additional 25 percent as long as it is not used for payments on an ESOP loan.
Employees pay no taxes on stock contributed to their ESOP until they receive distributions. If they are younger than 59 1/2--55 if their employment was terminated--they're not only subject to current taxes, but they also must pay a 10 percent excise tax, unless they rollover the funds into an IRA or another similar company plan.
Dividends Deductible
Dividends can be deducted on ESOP-held stock in three ways. Cash may be paid out as dividends to ESOP participants, either directly or as distributed payments, according to the National Center for Employee Ownership. Leveraged ESOP loan payments can have dividends applied. Employees participating in ESOPs also can reinvest dividends into deductible company stock.
Rollover
Taxes that must be paid on capital gains from ESOP ownership can be deferred or rolled over by ESOP owners in C corporations, according to section 1042 of the Internal Revenue Code. ESOP owners can roll over or reinvest the proceeds from the sale into bonds or stocks of other domestic operating companies. All funds can be rolled over or the seller can opt to roll over a portion of the ESOP and pay taxes on the amount sold or not re-invested.
Sellers must have owned the stock a minimum of three years to qualify to rollover the funds and must not have received the stock through exercising stock options, according to section 83 of section 1042.
S Corporation Benefits
On January 1, 1998, provisions were enacted to allow S corporations to participate in ESOP ownership. While S corporations do not qualify for the provisions under section 1042 of the tax code, the major benefit for S corporations is that the ESOP is not taxable on the S corporations ESOP share of corporate earnings.
Company Contributions
To make ESOPs and retirement plans worthwhile and meaningful to employees, employers generally contribute about 4 percent. This does not include what employees contribute, which averages from 6 to 10 percent of their pay.