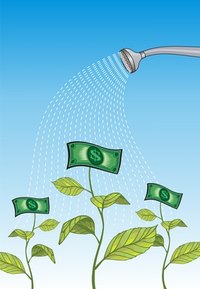 As baby boomers approached retirement, many began searching for methods for funding their retirement. Until the enactment of legislation allowing IRA's, individuals could rely only on financial vehicles that consisted of savings accounts, normal investments and employer-funded retirement accounts. IRA's allow investors a way to save for retirement that shields money funds from taxes and offers benefits that many other investments lack.
Pre-IRA
Before the individual retirement account became available, retirement was planned for by investing in regular taxable investments. Investments consisted of stocks and bonds along with traditional savings accounts. Before IRA's, many investors would have no alternative for retirement savings outside of traditional investments. Once IRA's were invented, investors were given an opportunity to invest in their future, and they were rewarded with tax benefits as well. Simple IRA's became available in 1997 as an offshoot of traditional IRA's, giving investors another wa to save for retirement.
IRA Inception
The traditional IRA was introduced in the Employee Retirement Income Security Act of 1974. It IRA allowed investors to add tax-deductible money to their IRA's. Simple IRA's were brought into being when Congress passed legislation that gave small businesses a method for helping with employees' retirement plans allowing small to medium-size employers to invest in a fund that was as beneficial as the regular IRA.
Simple IRA Benefits
Simple IRA's give investors and owners of businesses with no more than 100 employees, including sole proprietorships, a way to invest in their financial future. Simple IRA's are much easier to qualify for than 401k accounts, and they allow for employer matching. Simple IRA contributions from both the employee and the employer are 100 percent vested at the time of contribution. This lets owners of Simple IRA's move assets wherever they want. As long as the funds are left in the account, no penalty will occur for transferring the money among investment types.
Necessity
Simple IRA's are largely necessary for investors to make contributions to their retirement funds. If employees use Simple IRA's correctly, they will be able to save enough to retire on comfortably. Simple IRA's are also a necessary vehicle for employers to match a retirement investment of the employee in the absence of a 401k.
IRA's today
Simple IRA's are an investment vehicle that allows small-business owners and employees a method for investing in a retirement account outside of a 401k. Simple IRA's have an easy application process The IRS's website can give information on the current year's investment cap, along with the salary range that is eligible for investment.