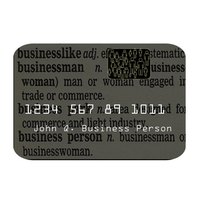 Plastic credit and debit cards are used every day by millions of people in all parts of the world. Credit is an old concept, but the idea of credit cards is far newer. Debit cards utilize much of the same business model as credit cards but have an even shorter history. These items have changed the way people conduct business in just a few decades.
Early Forms of Credit
While credit in some form or another had existed for some time, the first form of true credit card emerged in the first part of the 20th century. These first cards were issued by individual stores for use only at those stores. Charg-It, a local form of credit card, was created in 1946. A customer could use it at a participating merchant, and the bill would be forwarded to the bank, which, in turn, would bill the customer.
Diner's Club
The Diner's Club card was the first general-use credit card to achieve wide usage. Technically speaking, the Diner's Club card was not a credit card, but rather a charge card. That's because the balance was required to be paid at the end of the month. The first Diner's Club cards were issued in 1949; within two years, there were 20,000 cards in use.

American Express
American Express first issued a credit card in 1958. Like the Diner's Club card, it was a charge card that did not provide a revolving balance. In 1959, American Express issued the first plastic cards. Until that point, credit cards were made of canvas or cardboard.

Visa and MasterCard
Revolving credit emerged in the late 1950s, but it would not be applied to a general credit card until 1966. Originally known by different names, Visa and MasterCard as we know them today began in 1966. These cards were issued by individual banks, under the name of their respective association (Visa or MasterCard). At first, banks were allowed to issue only one or the other. Later, they could belong to both organizations.

Debit Cards
While a credit card charges a purchase to your account for you to pay later, a debit card subtracts the purchase from an account balance that you have in the bank, generally a checking account. The first debit card was issued by Seattle's First National Bank for preferred customers in 1978. It would take another six years, however, before Landmark established the first nationwide network for debit cards. By 1998, debit card transactions were more common than check transactions. That gap has continued to widen since then.