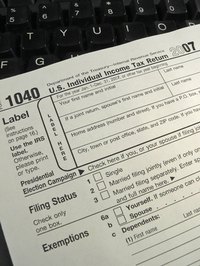 A traditional IRA is a retirement savings plan to which anyone with earned income can contribute. Money in traditional IRAs has the advantage of tax-free growth as long as it remains in the account. The Internal Revenue Service sets the rules about what is considered a qualified withdrawal from a traditional IRA and how distributions from the IRA are treated for tax purposes.
Time Frame
Qualified withdrawals from your traditional IRA take place after you have turned 59 1/2 years old. Unlike a Roth IRA, the IRS does not require that the account have been open for a certain period of time before you can take qualified withdrawals. Qualified withdrawals from your traditional IRA are subject to income taxes, but not early-withdrawal penalties.
Early Withdrawals
The IRS does not prevent you from removing money from your traditional IRA before your reach age 59 1/2. However, the IRS does impose significant penalties. Early withdrawals are subject to a 10 percent early-withdrawal penalty, on top of any income taxes you owe on the withdrawal. The penalty is a one-time occurrence, paid in the year that you took the early withdrawal. For example, if you took an early distribution of $13,200, you would pay a penalty of $1,320.
Early Withdrawal Exceptions
The IRS does permit several reasons for a withdrawal to be taken without penalty before 59 1/2. These include a permanent disability, death followed by withdrawal from an heir, medical expenses over 7.5 percent of your adjusted gross income, college education costs for yourself or a family member or up to $10,000 for costs associated with buying or building your first home. However, even if you have an exception for your early withdrawal, it only exempts the withdrawal from the 10 percent penalty, not the income taxes on the withdrawal.
Documentation
When you take a withdrawal from your traditional IRA, your financial institution will send you a form 1099-R at the end of the year to document the withdrawal. The total amount of the withdrawal will be shown in box 1 and the taxable amount in box 2a. Usually, these two will be the same because most contributions to traditional IRAs are tax-deductible. However, you may notice a difference if at some point you made nondeductible contributions because you were covered by a retirement plan at work and your adjusted gross income was too high to qualify for the deduction.
Tax Reporting
If you are taking an early withdrawal from your traditional IRA, you must file form 5329 to determine your penalty and use form 1040 to file your income taxes. If you are taking a qualified withdrawal, you must report the taxable portion of your traditional IRA withdrawal as taxable income. This amount will be added to your other income to calculate your total taxable income for the year.