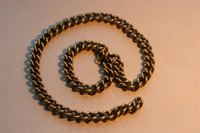 Risk assessment and management procedures help a project coordinator prevent losses in project activities. These losses may be significant if proper risk control strategies are not established because a project typically may span a few months or many years. Project risk management techniques and mechanisms cover operational, financial and technological risks.
Project Risk Defined
Project risk is the risk of loss that emanates from operational or technological problems. To illustrate, let's say an oil and gas company wants to build a new offshore drilling facility. If employees do not have appropriate skills or expertise, the project may be temporary halted. Technological problems that may affect this project may be breakdowns in computer hardware and software as well as power outage concerns on the construction site.
Risk and Control Assessment
A good risk assessment and management strategy is critical for a project's successful completion. A company's top leadership often may ask a project team supervisor to issue a monthly or quarterly risk and control self-assessment (RCSA) report. An RCSA helps senior leaders identify major controls and procedures as well as risks that may be considered "high," "medium" or "low." (Risk rankings are based on loss expectations.) A control is a set of instructions that a project coordinator establishes to prevent operating losses.
Financial Risk
Project risk may also include financial risks, such as market and credit risks, that are inherent in project activities. Credit risk, or counterparty risk, is the risk of loss emanating from a business partner's default or temporary inability to meet financial obligations. For instance, if a major partner defaults or files for bankruptcy, the project may be halted. Market risk is the risk of loss that originates from unfavorable commodity price changes as work is still in progress. As an illustration, a road construction project may be delayed if steel and iron prices increase.
Operational Risk
Operational risk relates to delays in project completion due to technological or personnel issues. For example, if an insurance company wants to build a new database to store customer premium payments and policy information, the project may be delayed if the operating software controlling all tasks has an expired manufacturer license. To illustrate the operational risk due to personnel factors, assume the company's staff does not have appropriate academic qualifications or professional credentials. This situation also may delay the project completion.
Compliance Risk
Compliance risk is the risk arising from losses due to adverse regulatory actions. Compliance risk is also referred to as regulatory risk. As a practical matter, consider that the insurance company's new database may have to process customers' financial information. If project workers do not adhere to rules promulgated by state regulators, the Securities and Exchange Commission (SEC) or the Financial Industry Regulatory Authority (FINRA), the project may be delayed and the company could be fined or sued.