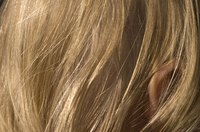 Hair is at its smoothest when it feels waxy to the touch. This sensation is the product of lipids, which make up the natural composition of hair and the substance that the skin secretes for lubrication. If the hair feels too waxy, then it is the result of an overproduction of lipids.
Lipids
Greasy sensations are usually the product of lipids in the body. Lipids are usually thought of as fats, but they also include wax, cholesterol and phospholipids, which are the lipids that make up the membrane that surround each cell. Lipids are hydrocarbons, meaning that they are composed of long chains of hydrogen and carbon atoms.
Hydrophobic
One major feature of lipids is that they are hydrophobic, meaning that they become completely insoluble in liquid and act to repel water. This makes lipids integral to the task of lubricating surfaces of the body. Some lipids also have hydrophilic parts that can be dissolved in water. For instance, the outer surface of the cell membrane is hydrophilic, while the inner parts are hydrophobic.
Glands
Mammals have special glands in the skin called sebaceous glands which secrete an oily or waxy lipid substance called sebum that keeps skin and hair properly waterproof. The greatest number of sebaceous glands are found in the face and scalp of humans.
Sebum
The sebum is made up of fats and waxes. It is secreted directly into the hair follicles and spread out over the hair and skin. Excess sebum can cause oily hair. During the adolescent years people may experience excess sebum, as it is easily stimulated by sex hormones.
Composition
A single strand of human hair is composed of a number of different lipids. One of these lipids is cholesterol, which is a waxy steroid that most people think of in terms of low-density or high-density. Cholesterol sulfate is a particular kind of cholesterol found in hair. Human hair is also made out of fatty acids and fatty alcohols, the latter of which are kind of like fatty acids with an alcohol group.