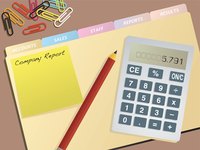 Elements of accounting affect financial statements in various ways. There are different types of elements, including assets, liabilities, equity, revenue and expenses. Each element affects a financial statement differently. Businesses base decisions, budgets, and forecasting on their financial statements.
Assets
Assets affect the balance sheet. A balance sheet is a statement showing the company's assets, liabilities and owner's equity. A company with a lot of assets has an advantage if the assets are owned and not financed. A balance sheet proves the accounting equation: Assets equals liabilities plus owner's equity. Assets that are financed cause liabilities to increase; owned assets cause equity to increase.
Liabilities
Liabilities are also shown on a balance sheet. Businesses aim to decrease their liabilities because it means less money the business owes. If assets remain the same but liabilities increase, the owner's equity account is affected by a decrease. However, if assets remain the same and liabilities decrease, it means an increase in the owner's equity account.
Equity
Owner's equity is usually termed as the company's difference between assets and liabilities. Whenever there is a change in one of these accounts, the equity account is affected. The way it's affected depends on the increase or decrease of either an asset or a liability.
Revenue
Revenue is any money a business earns. Revenue is stated on an income statement, along with expenses. An income statement shows a company's net income or loss. It's based on the equation revenue minus expenses. If revenue is greater than expenses, the company has a net income. If expenses are greater than revenue, the company has a net loss.
Expenses
Expenses are listed on the income statement. Expenses are one part of a business that are controlled greatly. Expenses, if excessive, cause harm in a business's financial statements. If expenses are greater than revenue, the company incurs a net loss, meaning it spent more money than it earned.