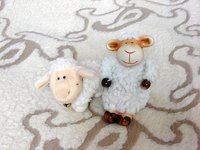 Isopropyl lanolate is made from the lanolin in sheep wool. It is used in a variety of cosmetics and personal care products as an emolient, binder and skin-conditioning agent.
Chemistry
Isopropyl lanolate is a mixture of the isopropyl esters of lanolin acid. Specifically, isopropyl lanolate is obtained by lanolin acid esterification with isopropyl alcohol. Lanolin acid is derived from lanolin, which is naturally obtained from the sheep wool. It has a Chemical Abstract Service or CAS, number of 063393931.
Synonyms
There are many synonyms for isopropyl lanolate, including AmerlateP, Amerlate W, fatty acid esters, lanolin, iso-Pr esters, iso-Pr esters lanolin fatty acids, Lanesta S, lanolic acid, isopropyl ester, lanolin fatty acid iso-Pr esters, lanolin acids and isopropyl esters.
Physical Characteristics
Isopropyl lanolate is a soft, buttery solid. It melts at the normal temperature of skin, allowing it to be easily absorbed into the skin.
Uses
Isopropyl lanolate is used as an emollient, lubricant, thickener and coupling agent in a variety of cosmetic and pharmaceutical applications. Examples include skin creams, makeup foundations, lotions, sunscreens and lipsticks. In lipstick, the isopropyl lanolate functions as a pigment dispersant.
It can also be used in ointments that treat skin burns, dermatitis, chapped skin, abrasions, and other skin illnesses and irritations.
Health and Safety Information
According to the Cosmetic Ingredient Review Expert Panel, which reviewed and evaluated the scientific data on isopropyl lanolate, it is safe for use in cosmetics and personal care products. There was some concern in one study that showed the occurrence of skin sensitivity in two out of 53 subjects. According to the panel's report, however, "human patch testing with cosmetic formulations containing 6 and 14 percent isopropyl lanolate were very slightly irritating and none of the three formulations caused allergic contact sensitization." The overall conclusion was that the industry should continue to monitor the skin-sensitizing potential of isopropyl lanolate.