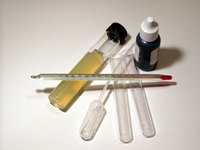 When patients suffer from neck pain or stiffness, doctors often run an erythocyte sedimentary test (ESR) on the patient's red blood cells.This test indicates the presence of inflammation. Sometimes the inflammation is caused by cancer; the doctor must run other tests to rule out or confirm this possibility.
The Erythocyte Sedimentary Test
The erythocyte sedimentary test is a test of how far red blood cells travel in the course of 1 hour. The doctor collects a sample of the patient's blood and measures how far the cells travel as they settle on the bottom of the tube. According to the National Cancer Institute, the sedimentary rate is higher in cancer patients than in healthy people.
Indications
This test is used when a patient has symptoms that may be consistent with cancer or infection. According to the Lab Tests Online website, the test is commonly ordered when patients have symptoms such as headaches, neck pain, weight loss, anemia and joint stiffness.
Test Results
A positive ESR result is not sufficient evidence to make a diagnosis of cancer. The sedimentary rate can be affected by other diseases, such as autoimmune diseases, inflammations and anemia. A negative result suggests that cancer is unlikely and a positive result suggests that cancer is likely, but further testing is needed to make a final diagnosis.
Other Tests
Once a positive ESR result has been obtained, doctors often order a fibrinogen level test and a serum protein electrophoresis test. According to Lab Tests Online, elevated ESR is most commonly caused by a problem in the fibrinogens or globulins, which are proteins in the blood's plasma; these tests will determine where the problem lies and help explain what is causing it.
False Positives
As mentioned, a positive ESR result does not necessarily mean a person has cancer. Besides other conditions such as anemia leading to a false result, pregnancy can cause a woman's ESR to be elevated. In addition, women tend to have higher levels of ESR than men.