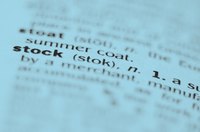 Especially in the age of Internet trading, the physical process of selling a stock is easier than ever. However, this simple act has many ramifications for your income tax situation. Based on when you purchased the stock, what you paid, and the type of stock you held, you may be taxed at higher or lower rates, or possibly not at all. Keeping accurate records is paramount to properly assessing the tax implications of selling your stock.
Filing a Tax Return
When you sell stock, you must file a tax return. Your financial services firm will issue a year-end 1099 to both you and the IRS, so you must make sure that information appears on your tax return. Furthermore, you cannot use Forms 1040-EZ or 1040-A if you have any stock transactions; you must use the lengthier Form 1040.
Short-Term Gains
If you sold your stock one year or less since you purchased it, you have a short-term gain for tax purposes. The negative tax implication of a short-term gain is that it is taxed at ordinary income rates, rather than the more favorable long-term capital gains rates.
Long-Term Gains
If you hold your stock for more than one year before you sell it, you will be taxed at long-term capital gains rates, rather than ordinary income tax rates. While this rate can fluctuate from year to year based on legislation, it is always preferable to regular tax rates. For 2010, the maximum long-term capital gains rate is 15 percent. Taxpayers in the lowest income tax brackets have a long-term capital gains rate of 0 percent.
Using Tax Losses
If you have a capital loss after you sell your stock, you can use that loss to offset other capital gains of the same type, either long-term or short-term. If you still have a loss after matching up all of your gains, you can use up to $3,000 of that loss to offset your current taxable income. Losses beyond that may be carried over for use in future years, either as an offset to gains or as an offset to $3,000 in income.
Investment Expenses
Any expenses you have in conjunction with your stock sale, such as professional management fees, custodian fees, or safe-deposit box fees, can be used as an itemized deduction on your taxes to help reduce your taxable income.
Special Tax Situations
Qualified small business stock, as defined by IRS Code Section 1202, is taxed at a maximum 28 percent rate.