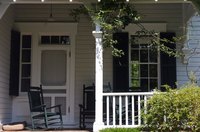 S.A.F.E. Mortgage Act, which is known as the S.A.F.E. Act, stands for the Secure and Fair Enforcement for Mortgage Licensing Act, which was signed into law in July, 2008 as part of the Housing and Economic Recovery Act (HERA). HERA is designed to help communities across America recover from the housing market downturn that started in 2007. The S.A.F.E. Mortgage Act is one of the key components of HERA.
Definition
The S.A.F.E Act creates a set of standards that mortgage professionals must meet in order to work in the mortgage industry. The act's requirements must be met by mortgage brokers, mortgage originators and loan processors who deal with consumers in originating and processing residential mortgage applications. Before a mortgage professional can obtain his license, he must adhere to the rules. The act also implements a system for making mortgage professionals accountable by requiring them to supply records and information for their mortgage transactions.
History
Part of the downfall of the lending and housing industry that began in 2007 was thought to be associated with predatory lending practices by mortgage brokers, lenders and other mortgage professionals. Some of the economic turmoil stems from mortgage lenders' putting borrowers into adjustable rate mortgages that they wouldn't be able to afford after the adjustment period, and finessing records and documents to approve borrowers for mortgages that they couldn't afford to take on. While many laws exist to help protect consumers, the volume of lending problems that arose in 2007 led to further regulations being enacted to protect consumers.
Purpose
The main purpose of the S.A.F.E. Act is to further protect consumers and reduce mortgage fraud. The S.A.F.E. Act encourages each state in the country to set standards by which mortgage professionals can obtain their license. The act also requires mortgage professionals to register with the national mortgage licensing system so that mortgage professionals can be tracked across state lines.
Objectives
One of the primary objectives of the S.A.F.E. Act is to set training and education requirements for mortgage professionals. First, it requires mortgage professionals to pass a state and federal exam in order to obtain their license. The mortgage professional must also pass a national S.A.F.E. Mortgage Loan Originator test and each state must impose a licensing process that meets the national mortgage licensing standards.
Considerations
In order for a mortgage professional to obtain a mortgage license, she must undergo a background check. Second, the mortgage license applicant cannot have had a mortgage license revoked previously or be a felon convicted of a crime involving fraud, dishonesty, breach of trust or money laundering. The license applicant also cannot have been convicted of any felony for the past seven years. Before taking the license exam, the applicant must complete a 20-hour pre-licensing education course and subsequently must pass the national licensing exam. Each year after obtaining his license, the licensee must attend at least eight hours of continuing education (CE) credits to remain up-to-date on the mortgage laws and regulations.
Benefits
The main benefit of the S.A.F.E Act is to increase the integrity of the mortgage and lending industry. The new standards create a uniform set of guidelines that mortgage professionals must adhere to regardless of which area of the country they practice in. The S.A.F.E Act also requires states to have a system in place for licensing mortgage professionals.