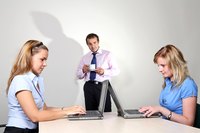 Conflict within a group is inevitable, as group members will have varying interests, beliefs and goals. Eliminating conflict within the group might be impossible, but there are ways for group members to improve their responses to conflict. Likewise, team leaders can use effective conflict management strategies to resolve conflict and move the group toward a solution.
Causes
According to the University of Maine, there are many reasons for group conflict. Miscommunication and misinformation can create tension within a group. Real or perceived differences in priorities, needs and values among the group members also lead to conflict. Differences in culture, perceptions and beliefs can also disrupt the accord in a group.
Benefits
Although conflict can cause frustration within a group, it can also generate positive outcomes. According to the University of California San Diego, conflict allows group members to express their emotions and reduce tension. This, in turn, can boost team morale. Conflict also helps to identify any organizational or structural problems within a group. If a group procedure is causing conflict, then the group members can improve the procedure to resolve the problem, eliminate future conflict and improve efficiency.
Responses to Conflict
How a group responds to conflict determines how easily the group can come to a resolution. The University of Maine identified five common ways people respond to conflict. Some group members avoid conflict, while others accommodate others to avoid problems. Although some people aim to compromise, others compete, hoping to "win" the argument. Finally, some group members will collaborate to seek the best solution. Each of these conflict responses can move the group toward a solution, depending on the situation and the team members.
Managing Conflict
A team leader must recognize that conflict will occur and understand effective strategies to combat it. North Dakota State University suggests acknowledging the conflict as soon as it occurs and encouraging the group to openly discuss it. NDSU also recommends that team leaders prohibit name calling or threatening behavior and handle one issue at a time to keep the problem manageable. Ensure that group members do not insist on being right, as there is often more than one solution to a problem.
Finding Solutions
Although the team leader should manage the conflict resolution, each group member is responsible for helping to find a solution. The University of Maine offers several resolution strategies for group conflict. Each group member should have the opportunity to explain how he views the conflict. By asking questions to group members, the team leader can fully understand the problem and move toward a solution. The group should provide input regarding solutions, and any shared solutions allow for potential compromise.