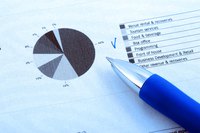 Financial transactions, which occur in every business make up the bulk of accounting information. Each business, large or small, should have a process for accurately recording accounting information. It is essential for good decision-making. A large company might have several accountants on staff to record and measure financial information. A smaller shop owner might produce this information himself or hire an external accounting firm.
Recordable
To produce useful accounting information, financial transactions must be recordable. A transaction must take place to be recorded. Depending on the accounting method used, a transaction can be considered to have taken place when revenue is earned or expenses are incurred, even if no payments have been made or received.
Measurable
Accounting information must be measurable. If there is an invoice, a check or a contract, the dollar amount is easily determined. Without any document listing the dollar amount, an accountant must make an estimate using the best information she has available. She should clearly document her method for arriving at the estimated dollar amount.
Evaluation
Performance evaluation for an individual can be based on accounting information for transactions that were under that person's control. For example, a purchasing agent might be responsible for negotiating prices on raw materials. The actual cost of purchases made by that agent would form the basis for his evaluation. The local manager of a division might be evaluated based on the profits earned by that division. An income statement for that division would form the basis for her evaluation.
Decision-Making
Accounting information can be used for decision-making. One type of decision is whether a company should make a component itself, or purchase the part from an outside supplier. Another type of decision would be whether the company should accept a special order at a lower price. For either decision, financial data must be gathered and compared. Accounting information is relied upon to make the best decision.
Communication
Ultimately, accounting information is used to communicate. It is used to communicate financial results to external users, such as creditors or investors. Creditors use the information to determine how much credit to extend to the company. Investors determine whether they want to invest in the business. Accounting information is also communicated to managers and employees, who consider it in making decisions for future transactions.