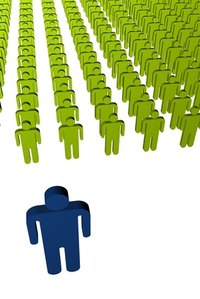 Corporate leadership training provides tomorrow's leaders with skills and knowledge required to make an impact in the business world. By definition, corporate leadership training offers instruction and practice on topics relevant to leading corporations. Typically beginning by administering a participant self-assessment, corporate leadership training programs strive to help managers develop their capacity to think strategically to enable long-term financial success.
Features
Corporate leadership training features opportunities for participants to identify different types of leadership so they can choose the most effective styles in their line of work. For example, autocratic leaders give their staff very little power and tend to function best while managing unskilled laborers. Bureaucratic leaders, who follow rules closely, function effectively in situations where safety or security is imperative. A charismatic leader inspires the workforce with her personality and enthusiasm, which can be disruptive for the organization when she leaves. Democratic leaders allow members of the team to contribute to making decisions. Laissez-faire leadership occurs when managers leave team members to work on their own. Defining these styles allows a participant to choose a style to employ during challenging situations.
Benefits
Leadership training prepares participants to lead with integrity, set clear attainable goals, articulate a vision, provide a stable work environment and inspire the organization to produce innovative products and services. By establishing standard leadership competency levels, a company can align its employees' career development with its strategic goals. For example, by defining standards for accountability, customer management, financial acumen and communication skills, company executives ensure that future leaders adhere to the established vision.
Format
Corporate leadership training programs typically take place in face-to-face settings so that role playing exercises can most easily occur. Coaching and mentoring usually follow in the months after formal lecture training. Social networking sites such as LinkedIn can enable leaders from different companies to stay connected. Executive education programs such as those offered by Harvard University prepare managers for leadership careers through the use of case studies. Some, such as the Massachusetts Institute of Technology, make their materials available for free.
Content
Examining leadership theories forms the basis of most corporate leadership training programs. By identifying the personality traits that make someone a good leader, future leaders can model that behavior to achieve similar results. Other topics include managing change, decision making, managing risk, influencing, team building, conflict resolution, motivating and negotiating.
Expert Insight
Power and influence often define how leaders get things done. Frequently, being the expert enables a leader to achieve the most effective results. Rewarding employees or coercing them into working harder can produce results as well. Employees tend to follow the example set by their leaders, so corporate leadership training should prepare ways to practice having a positive effect.