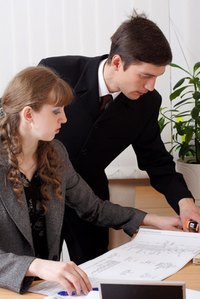 Being a leader involves building and maintaining relationships with subordinates, co-workers and stakeholders. In essence, leadership qualities must encompass many of the same elements that can be found in successful relationships.
What is Leadership?
Leadership is the ability to positively motivate and influence others, and guide them through changes. Leaders are most effective when they lead by example and exhibit positive ethics and values. Being a leader requires knowledge and understanding of individual, group and organizational behaviors. The awareness of others' behaviors is valuable in determining the style of leadership that will elicit agreeable reactions from followers.
Leadership Theories
According to the 1994 issue of "International Journal of Public Administration," Bernard Bass and Bruce Avolio explain that there are many types of leadership styles that focus on various elements. Depending on the type of relationship a leader wishes to have with subordinates, co-workers and stakeholders, a leadership style will be employed to fulfill the desired relationship. For instance, there are directive leadership styles that a leader may wish to use in instances where a lot of direction is needed to produce outcomes. Directive styles of leadership tend to be based in productivity and focused on outcomes. On the contrary, there are supportive leadership styles that leaders use when they want to build emotionally-based relationships. By evaluating the behaviors of others, leaders can determine which leadership style will be the most effective in terms of solidifying a positive relationship that helps the leader reach targeted objectives.
Relationship Theories
Communication is a key element in relationships, and also transpires into key elements for leadership strategies. By practicing outstanding communication skills, leaders can maintain strong relationships with those they are leading. Relationship-building is an important quality for leaders to possess because it builds trust between the followers and the leaders. Without that bond, people may be reluctant to follow leaders through the changes they wish to institute. It is also important for leaders to possess positive attitudes. No one wants to be in a relationship with someone who they do not like. As such, leaders should ensure that they are taking the necessary steps to be liked. Leaders who are disliked may find that their leadership role is short-lived.
Building Trust
Trust is one of the most important qualities a successful relationship can have. According to the 2006 issue of "Journal of Leadership and Organizational Studies," the relationship between leaders and their followers must be founded on trust, or else the leader will be unsuccessful in effectively leading his subordinates.
Authenticity
Building trust begins with authenticity. According to the December 2009 issue of "Journal of Change Management," Bjrn Michaelis, Ralf Stegmaier and Karlheinz Sonntag explain that being authentic with followers is a great way to build their trust. It is easy for people to pick up on fake personas. Being able to laugh at yourself, admit when you are wrong and show genuine care and appreciation of others will help others perceive you as authentic.