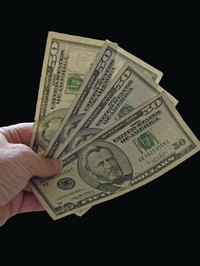 A cash gifting program is a type of pyramid scheme that uses IRS rules for monetary gifts as a facade to make it seem as though it isn't a pyramid scheme. The IRS allows individuals to gift money to other individuals up to a certain limit. A cash gifting program is where you try to convince a bunch of people to give you money, and then get those people to convince others to give them more money than they gave you. As long as the gifts stay under the IRS contribution limit, it's tax-free income, so you can market the program as a way to make money "tax free," when it is really a bunch of people conning money out of each other.
Cash Gifting Rules Explained
Giving cash as a gift to anyone is perfectly acceptable. As of 2010, the IRS gift limit for individuals is $13,000. Many elderly people like to use cash gifts to gradually transfer their estate to their heirs tax-free before they pass.
For example: if you are married, and both of your parents are still alive, your father could gift $13,000 to you and $13,000 to your spouse, and your mother could also give each of you that amount, allowing your parents to transfer $52,000 to you every year tax-free. They do not need to report the gifts to the IRS. Gifts above the limit are subject to a gift tax on the giver.
The only catch is the gift must come with no strings attached. You can't agree to perform some service in exchange for the "gift."
Cash Gifting Programs
Cash gifting is a form of pyramid scheme where early entrants to the program try to get money from new entrants to the program in the form of gifts. The new entrants then try to find others to gift them money, and so on. There are two basic kinds of programs, one-up and multi-level.
Multi-Level
This form of cash-gifting is the classic pyramid scheme, where one person invites their friends into the program, and those friends then try to invite their friends.
What's really happening is that each person is trying to convince their friends to give them thousands of dollars in exchange for nothing, but the presentation is wrapped in what sounds like a legitimate wealth-building program.
Eventually, the last people to buy into the group are unable to find new marks themselves, and they end up eating the losses.
One-Up
One-up programs are a bit more complex, and are designed to get around the appearance of a pyramid scheme. This program is set up so that one member is only ever paid by one other member.
Member 1 would recruit Member 2, who pays Member 1 some money, and then goes and finds new Member 3. Member 2 sends Member 3's buy-in payment to Member 1. Now Member 2 is free to find and collect from new members just like Member 1. Member 3 finds Member 4, and sends their buy-in to Member 1.
It's much more complex than a simple pyramid scheme, but it has the same problem because pretty soon, everybody is Member 1, and they're competing for the dwindling pool of new marks, so the last people in are the ones who lose money.
Legality
Cash-gifting programs are illegal in several states because they are considered pyramid schemes. However, they may be legal in some places depending on how they are structured. Legal or not, pyramid schemes are a very old con, and are generally not something you want to be associated with as an ethical person.