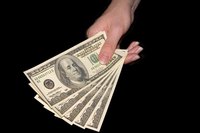 If you genuinely want to pay your debts but don't know how, you may consider filing for Chapter 13 bankruptcy. In a Chapter 13 bankruptcy, the court evaluates the debtor's income and the amount he owes to his creditors. The court requires the debtor to repay his creditors over a three- to five-year period, but it may opt to reduce the total amount the individual owes. The bankruptcy stays active until it's either dismissed or the debtor fulfills the terms of his repayment plan.
Facts
After a debtor pays off the amount the court assigns him under his Chapter 13 bankruptcy plan, the court will discharge the bankruptcy; a discharged bankruptcy is considered officially complete by the court. It's possible for a debtor to have his Chapter 13 bankruptcy petition discharged early, but not unless he pays back the total amount that he owes to each creditor. If the court allows the debtor to pay off only a portion of the debt, he cannot pay that portion off early and request an early discharge. Each debt must be paid in full to merit an early bankruptcy discharge.
Significance
After each creditor has been paid through Chapter 13, the debtor no longer legally owes the debts. Even if the bankruptcy court forced some creditors to accept less for the debt than the debtor owed, the creditor must forgive the remaining balance rather than trying to collect it from the debtor after a bankruptcy discharge. Since debtors no longer have to hand over a large portion of their monthly income to the bankruptcy trustee, many individuals find that they can easily keep up with their financial obligations after a Chapter 13 bankruptcy.
Time Frame
The Fair Credit Reporting Act states than any bankruptcy filing can remain on an individual's credit report for up to 10 years. Chapter 13 bankruptcies, however, are often removed after seven years. A bankruptcy is a detrimental public record that can have a devastating effect on even the best credit score. Although a bankruptcy will eventually disappear from an individual's credit report after a successful discharge, it remains a part of the public record indefinitely.
Considerations
Paying off overdue debts through Chapter 13 doesn't necessarily mean that it will be easy for a former debtor to get approved for new credit. The more recent a bankruptcy is, the more hesitant lenders often are to offer credit and loans to that individual. Paying mortgage payments or car payments help to rebuild credit. After six months, an individual who received a Chapter 13 bankruptcy discharge may qualify for a new credit card. Building fresh credit after a bankruptcy is an important step to a solid financial future.
Effects
Although an individual may file for bankruptcy repeatedly, he cannot file two bankruptcies back to back and be granted a discharge. After a Chapter 13 bankruptcy, a debtor must wait two years before another Chapter 13 discharge can be granted. If the individual qualifies to file a Chapter 7 bankruptcy, he may do so but cannot have the bankruptcy discharged until six years after his Chapter 13 discharge.