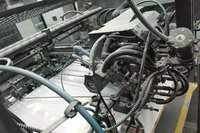 The printing industry is a diverse group of allied trades, all involved in the manufacture of printed goods. Books, magazines, clothing, machine parts, product displays, packaging and signage are common goods produced by printers, but companies involved in various finishing processes--bookbinding, die cutting, laminating, design firms and others--are also considered part of the industry.
History
The printing industry enjoys a rich history that can be traced to China in the second century A.D., but it was not until the invention of movable type--and its printing press companion--by Johannes Gutenberg in the mid-13th century that the production of mass quantities of printed matter was easily done and economically feasible. Since Gutenberg's time, printing has been the primary method of disseminating news, knowledge and information to the public. The printing process remained largely the same for 500 years until the development and widespread use of "offset" lithography in the mid-20th century, supplemented with digital printers in the late 1990s and early 2000s.
Types of Printing
The U.S. Bureau of Labor Statistics divides the printing industry into segments. Lithography, flexography, gravure, screen printing and letterpress (the original Gutenberg method) are segments that use some form of printing plate or carrier to transfer ink directly to the product. The "plateless" or "non-impact" segment includes digital printing, which uses photocopying and ink-jet style printing machines. Other segments include finishing processes such as pre-press services (design, platemaking and typesetting companies) binding, die-cutting and other similar finishing services.
Technological Changes
With the advent of computers and related printing technologies, the printing industry underwent numerous changes. In commercial shops, digital presses are run alongside traditional presses. Computers automate film and plate making in the pre-press departments, while other computers linked directly to presses control ink flow, color matching and other operations. In smaller "quick-print" and specialty printing shops, digital presses dominate the machinery landscape and have helped create an entirely new market for short-run specialty printed products.
Job Growth
In 2008, the Bureau of Labor Statistics reported that the printing industry employed roughly 590,000 employees--a figure that it expects to decline. With new technologies that require less manpower and the markets for the new products they produce on the rise, the figures are expected to taper off. The printing industry will almost certainly remain, but on a smaller scale.
Misconceptions
Although the printing industry has changed dramatically since the late 20th century, with many printers--small and large--closing their doors in part due to an inability to keep up with the sometimes considerable investments in new technology and training, printing has not gone away. With the proliferation of the Internet, demand for some printed products has decreased. But savvy printers have either changed their business models and product lines to embrace new technology and methods of producing and disseminating information, or have gone into more specialized printing segments.