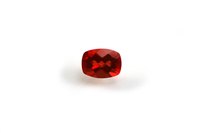 Labradorite was originally discovered in Labrador, which is part of Canada. Labradorite stems from the feldspar family. Labradorite gems will have an iridescent quality. Iridescence allows a labradorite to change hues depending on the angle from which you view the gem. This change in color is known as labradorescence.
Composition
Labradorite is a type of feldspar. Feldspar is created from the earth's magma. Labradorite gems contain albite and anorthite. Albite is made of sodium aluminum silicate. Anorthite is composed of calcium aluminum silicate. According to the Facters website (a site devoted to faceting stones), labradorite has a hardness scale of 6 to 6.5. Due to the hardness of the stone, labradorite is considered a nice stone to use for faceting or creating cabochons.
Location
You can find labradorite in many areas of the world. The stone has been mined in the U.S., Canada, Asia, Africa, Mexico and Europe. Depending on the location where the stone is mined, the color of labradorite will vary.
Color Variation
Generally labradorite has a bluish, grayish tinge to it. However, gem quality labradorite can contain colors that include yellow, gold, champagne, red, orange, green and pink. Labradorite gems that contain reds and greens are valuable due to the rarity of finding such gemstones containing these colors.
Cost
Depending on the rarity of the stone you buy, according to Gehna Bazaar (a jewelry information site), labradorite can cost between $10 to $1,000. Carat weight and the cut of a labradorite gem will also factor into the gem's value. If a labradorite gem is free of inclusions and has a rich color, the stone will also be more costly.
Treatments
Gemologists may treat some labradorite gems. Treatments are necessary if it has heavy inclusions. Treatments will help a labradorite gem look more transparent and clearer. Gemologists may also heat it with a copper compound (such as andesine-labradorite) to help a gem achieve a richer and deeper color.