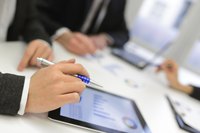 Finance companies are subject to a range of regulatory authorities. Banks, both national and state-based, have specific supervision, as do companies involved in securities trading and those listed on stock exchanges. There is also some degree of informal regulation through consumer groups that keep track of how businesses deal with complaints from customers. Most regulation has been developed in response to financial scandals that highlighted loopholes and flaws in the existing rules and systems.
History
Most existing regulation of banks and other financial companies was introduced in the 1930s as a response to the 1929 Wall Street crash and the resulting Great Depression. As well as increasing controls of the way companies behaved, the changes were designed to prevent runs on the bank, in which many customers tried to withdraw their entire savings at once; this causes problems, as banks traditionally keep only a small proportion of savings as cash, investing and lending the rest. More recent regulatory changes came in the early 2000s as a response to accounting scandals among major firms.
Federal Reserve System
This is effectively the heart of the U.S. banking system. As well as controlling monetary policy by setting base interest rates, the Federal Reserve System regulates the banking industry. While some of its powers cover all banks, others only cover national banks plus those state banks that have specifically joined the Fed. Other state banks are covered by the Federal Deposit Insurance Corporation.
Federal Deposit Insurance Corporation
This government-run corporation provides a guarantee that protects the first $250,000 any depositor has in their bank account in the event of the bank being unable to return the money. In return for this guarantee, the corporation requires banks to maintain a particular capital ratio, which measures its capital as a proportion of its total risks. The corporation also checks that banks are following certain standards and rules, as well as stepping in to take over the management of any bank that goes into liquidation.
SEC
The Securities and Exchange Commission oversees the securities market, which covers stocks among other financial products. It enforces the major laws that cover security trading and can take some enforcement action on a civil basis, meaning it does not have to take offenders to court. It also oversees the public accounts of companies whose stock is publicly traded. The SEC publishes company filings and other documents on a publicly accessible database known as EDGAR.
Better Business Bureau
The Better Business Bureau maintains a register of companies in the United States and Canada, including financial companies. It accredits companies that meet certain standards including a commitment to dealing with customer complaints fairly. The Bureau also rates companies from A+ to F based on complaints received from the public. Unlike most financial regulation, the Bureau's oversight of financial companies is not legally binding and serves merely as a source of consumer information.