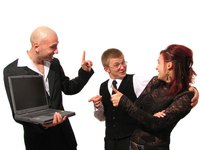 When making a decision to purchase a product or a service, an individual or a company evaluates the opportunity cost. You buy one thing at the expense of another. Usually people purchase products that will give them the most value for the available resources.
The Meaning of Oportunity Cost
In simple terms, opportunity cost means that because you do not have enough money to purchase everything you need at once, you have to choose one thing out of the available options. Opportunity cost is the value of the product or service you forgo in order to procure something else. For instance, you have $20 and you have to make a decision between buying a turkey, which costs $20, or four chickens at $5 each. If you decide to purchase the turkey, the opportunity cost is four chickens.
The Link Between Opportunity Cost and Economics
Opportunity cost is part of economic decision making. Often people choose to purchase a product because of the price. When the price is higher, fewer people will purchase that product. Conversely, when the price is low, people will buy more because they are looking to get the most value for the money.
Supply and Demand
There is a relationship between the price of a product or service and demand for it. If the price of hotel rooms in resort areas are reduced, it means more people will choose to go on vacation. That means the airlines, in turn, will have fully booked flights, and hotels will be occupied to capacity. But there are times people choose to forgo a product for something else they need or treasure more, regardless of the price. You might decide to remodel your home, for example, instead of going on vacation. Under the law of supply, a product will be supplied according to demand. The higher the price, the more the product will be supplied if customers are willing to pay. In that sense, the producer will supply one product more because of its profit margin at the expense of another product which might be less profitable.
Resource Allocation
The relationship between demand and supply is efficiency in resource allocation. The economic concept is based on the scarcity of resources. Rather than producing an item that consumers will not spend money on, you manufacture what will attract high demand. For example, if suddenly there is a high demand for wedding dresses because people are marrying more, instead of producing something else, a manufacturer might choose to allocate all her capital to making more wedding dresses.
Rational Decision Making
When it comes to economic choices, consumers make rational decisions by choosing to purchase an item that will give them satisfaction. In economics, that falls under the concept of utility, which is the benefit that an individual derives from a product he has chosen to purchase. The choice of a product or service is supposed to increase the buyer's happiness or satisfaction. It means the item you chose to forgo (your opportunity cost) would have made you less happy or satisfied had you bought it.