While the United States Postal Service (USPS) offers a wide variety of postage options, first-class stamps are among the most widely used, particularly for everyday needs.
Identification
First-class postage is better known as the everyday stamp. The USPS states that first-class mail prices depend on the shape and weight of the item being mailed. Once an item weighs over 13 ounces, Priority Mail service is the next available option.
First-class mail is the least expensive and most immediate option for postcards, letters and large envelopes as of 2010.
Function
First-class mail is ideal for personal correspondence. The following items can be mailed: first-class mail cards (such as postcards), first-class mail letters (rectangular envelopes no thicker than 1/4 inch, weighing 3.5 oz. or less), first-class mail large envelopes (flat rectangular envelope no thicker than 3/4 inch), first-class mail packages (box, thick envelope, or tube weighing up to 13 oz.) and presorted first-class mail (business mail in high volumes).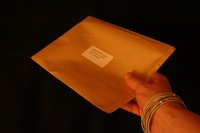 Delivery Time
According to the USPS, first-class delivery takes approximately two to three days in the United States.
Postage Rates
First-class postage stamp prices can charnge, but Forever Stamps remain valid regardless of the current rate. Forever Stamps are sold based on the first-class rate at the time of purchase.
One cent stamps can be purchased to make up for the difference when prices change.
Availability
First-class stamps are available online anytime at www.usps.com. They can also be purchased at most grocery stores, banks, shipping facilities and, of course, at post offices.