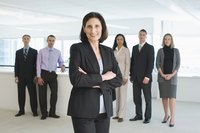 Today's world is a melting pot of cultures, nationalities and backgrounds. In the United States, the group that was once the majority is slowly becoming the minority as more people from different areas of the world migrate to this country. It's important to keep up with changes in today's society. To do so, diversity training has become vital. Businesses that train their managers to embrace a diverse workforce can experience many benefits.
What is Diversity?
In basic terms, diversity means a difference or variety. When it comes to the workplace, this term can have a polarizing effect. Some may interpret the word to simply mean the hiring of more racial minorities, but this is far from the truth. A diverse group has a multitude of individuals who vary in age, race, creed, nationality, religion and even sexual orientation. You may be a part of a team that has individuals of the same race, but looking further into their backgrounds can display diverse origins or beliefs.
Diversity in the Workplace
Diversity in the workplace has become an important initiative in many companies. As these groups continue to grow and look outside their local areas for new customers, they must bring in a wider talent pool to understand those new communities. To stay competitive in today's market, a company must work to include people who can reach out to untapped marketplaces and are willing to learn about those populations. Having managers at the forefront, embracing diversity, can help improve the morale of everyone on staff.
Diversity Training for Management
Incorporate a variety of activities into diversity training. Human resources employees or outside vendors can conduct these sessions. Use team-building activities to open the gathering. Give those involved opportunities to interact with those of different backgrounds. Conduct conversations about situations in the workplace that can display a lack of cultural understanding.
Programs for Managing Diversity
Individuals in management can play a vital role in creating and implementing diversity-based programs within the organization. These tools can help teach the staff about diversity while developing them into better employees and future leaders. Examples of diversity programs included mentorships for minority employees, resource groups to bring employees of the same background together and outreach programs to minority college students. These programs need to be available to all employees, including top level management.
Impact of Diversity Training
Diversity training for management can impact both the success and workplace environment of your organization. A wider talent pool has the ability to develop ideas based on those cultural differences. These new ideas can lead to new products, improved processes for productivity and increased revenue. A management team that is properly trained can better handle diversity issues. A diverse workforce will be more productive and can help your organization stay competitive in the global marketplace.