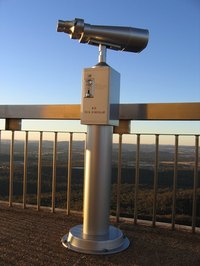 It's a truism that any organization must anticipate the need for change. It's important, however, to define exactly why that is the case in order to focus the institution's efforts on preparedness and situational awareness. Thoughtfully anticipating change allows an institution to balance its resources between the present and the future in a sustainable, agile way–and to thrive where it was once simply surviving.
Acceleration
The worldwide rate of change is accelerating. Simply put, if an organization doesn't prepare itself for change, it quickly will become a victim to swiftly shifting socioeconomic conditions. The changes in technology brought by the last two decades alone have vastly accelerated the process of change, and the years ahead are predicted to be no different. This environment of accelerating change creates a "treadmill" upon which organizations must move forward or fall off.
Balanced Focus
Though changes seem to arise without warning, experience shows that there is almost always a measurable precursor. Organizations tend to spend time addressing issues of immediate importance–often unanticipated changes–at the expense of scanning the surroundings for changes in earlier developmental stages. Shifting the balance of focus to scan the future allows the organization to spend less time managing crises and more time developing a thrive-based methodology.
Better Filtration
The technological changes of the last few years have seen a tremendous increase in the availability of information, both useful and useless. The antecedents of change lie buried within this cloud of informational "noise." As such, it takes a lot of practice to discern useful signals of change from the rest. When an organization anticipates the need for change and begins to practice filtration, it "learns" what information is important for good policymaking and can look for that information more effectively.
Identifying Opportunities
Anticipating a need for change has another benefit: the ability to recognize an opportunity for growth or development before other organizations identify it. These opportunities (also known as "white space" in business parlance) escape crisis-focused organizations. Scanning the future landscape for white space allows an organization the luxury of time, allowing sustainable growth and transition where quick moves and stopgap measures would fail.
Life Cycle
Change is necessary to remain relevant, as has been proved in business, history and even physics. Research into physical systems shows that any given system will run out of energy and into entropy when left unadjusted. Business experts Ken Blanchard and Terry Waghorn wrote extensively about the life cycle of organizations in their seminal 1999 work on organizational flexibility, "Mission Possible." They concluded that a new system starts off slowly, builds rapidly for an undetermined amount of time, plateaus and declines rapidly. Anticipating and moving with change allows the organization to go back to step one, avoiding the stage of decline.