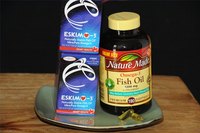 Skin is our largest organ and the mirror of our health. Firm, moist, and blemish-free skin heralds a youthful, healthy body. Maintaining a healthy skin has been a goal of medical science for centuries, and in the last 30 years, fish oil and its high concentrations of omega-3 fatty acids have moved high on the list of skin maintenance and treatment, shown effective in countering anti-aging dehydration, fighting inflammation, and treating diseases. The American Heart Association recommends eating fatty fish twice a week. Alternatively, fish oil supplements can be taken on the advice of your doctor to maintain healthy skin.
Anti Aging
A major symptom of a deficiency in fatty acids is dry skin, and dry skin produces flaky, flabby skin prone to wrinkles. The fatty acids in fish oil are docosahexaenoic acid (DHA) and eicosapentaenoic acid (EPA). Restoring your DHA and EPA levels restores the moisture content and improves skin firmness, which reduces wrinkles and other signs of age. High-quality fish oil supplements---those which list on the label the percent of DHA and EPA and have a COA (certificate of analysis), indicating the absence of heavy metals---are recommended.
Anti Inflammatory
Your skin's health reflects what's happening in your body. Skin conditions like eczema and acne often show there is an imbalance within. Fish oils rich in omega-3 fatty acids have been shown to be effective in reducing inflammation. Conditions like psoriasis, rosacea, eczema, and acne all involve some level of inflammation of the skin. Consuming fatty acids---which cannot be manufactured by your body---in supplement form or by eating fish is recommended to maintain healthy skin and reduce inflammation associated with these conditions.
Sun Blocker
A clinical study of 13 people suffering from an extreme sensitivity to the sun called photo dermatitis reduced their sensitivity significantly by taking omega-3 supplements in fish oil capsules---although sun blockers have stronger protection from the sun. Considered essential fatty acids because we must get them from our diet, omega-3s can be found in mackerel, sardines, and herring (preferred to the larger salmon, tuna, and halibut, which typically accumulate more mercury). They are also in algae, krill, and certain plant and nut oils.
Burn Balm
Burn victims lose the vital protection provided by the skin, which keeps oils in and water and germs out. Damaged skin must be replaced through grafts and regrowth, and protein is important in that process. Essential fatty acids have shown they can reduce inflammation and promote wound healing in burned skin. Animal studies indicate omega-3 fatty acids promote a healthy balance of proteins, a balance important for recovery of burn victims. More research will show if omega-3s benefit humans in the same way. (See reference 1)
Psoriasis
Up to two percent of the population suffers from the itchy, scaly skin of psoriasis. This skin disease can be severe enough to send victims to hospital. Studies have shown fish oil supplements, particularly EPA, reduce the inflammation, itching, and severity of the disease. A study of 40 subjects with psoriasis showed the ones treated with medications and EPA supplements fared better than those on medication alone.