Fever blisters, also known as cold sores, are caused by the herpes simplex virus. People often wonder just how related fever blisters and the sexually transmitted disease herpes are. The question of whether contact with someone who has an oral fever blister can lead to a case of genital herpes is often asked. Understanding the differences--and similarities--between the two types of herpes can help you keep from getting infected with or transmitting one of them.
Symptoms
Fever blisters appear on the lower part of the face, especially the lips. They fill with clear fluid and, after three to five days, break open. They then crust over and dry up. They can easily be spread by kissing. In the United States, between 45 and 80 percent of children and adults have had at least one episode of fever blisters. Some people only have one occurrence while others have repeated outbreaks--anywhere from once every couple of months to once a decade. Genital herpes has similar symptoms and follows much the same course, but the blisters appear in the pelvic area.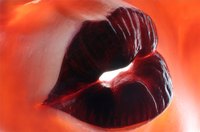 Types
The herpes simplex subtype that typically affects the mouth is called herpes simplex 1. The type that more often affects the genitals is called herpes simplex 2. But this is only a generalization. While each virus subtype can be said to have a "preferred" location, herpes simplex 1, in fact, is the cause of as many as 30 percent of all cased of genital herpes, according to the American Social Health Association. An oral case can be spread to the genitals through oral sex. Herpes simplex 2 can also spread from the genitals to the lips, though it's uncommon. The virus may account for as many as 10 percent of oral herpes infections.
Remission
Between outbreaks, the virus retreats back to a bundle of nerve cells, either near the ear or at the base of the spine, depending on whether it's fever blisters or genital herpes. There are no symptoms during this time, but it may still be possible to transmit the virus.
Strength
When a herpes virus infects an area away from its preferred location, it tends to lose some of its power. So genital herpes simplex 1 is likely to be milder and recur less often than genital herpes simplex 2, if it recurs at all. And when herpes infects the oral area, it's likely to be very mild, and it's exceptionally unlikely to recur.
Complications
Herpes simplex infections, either in the oral or the genital area, generally are not hazardous to a person's overall health. However, they can present more serious problems for infants who acquire them during birth and for people with weakened immune systems, such as those with AIDS or cancer.
Herpes infections are also not limited to the mouth or genitals. Herpes simplex 1 can cause herpes whitlow on the finger, and "wrestler's herpes," an infection on the face or chest often transmitted through sports contact. Herpes simplex 1 can in rare cases spread to the brain, a potentially fatal situation.