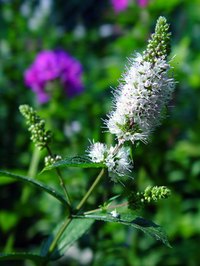 The spearmint plant has long been recognized for its medicinal and aroma-therapeutic benefits. As a topical agent, spearmint essential oil has disinfectant, antiseptic and antiinflammatory properties. In addition, recent studies reveal that consuming spearmint tea may regulate hormones responsible for triggering acne and other androgen disorders in women. The herb offers many potential benefits for acne, both as a topical and a dietary agent.
History
Originally a native plant of the Mediterranean, spearmint was revered by the ancient Romans for its ability to stimulate the mind. It was used in ancient Greece to treat infectious skin diseases such as scabies, dermatitis and athlete's foot. Spearmint was renowned for its cleansing properties and added to drinking water to prevent contamination during long voyages in medieval times.
Facts
Spearmint, also known as Mentha spicata, derives its name from its lance-shaped leaves. With a pleasant aroma, and a milder taste than peppermint, the rich green leaves of spearmint find their way into many gourmet dishes. A perennial shrub, it also goes by the names of garden mint, sage of Bethlehem, fish mint and silver mint.
Significance
Used in many natural products formulated to fight acne, the essential oil in spearmint addresses the underlying factors of acne. As a topical disinfectant with antibacterial and antiviral properties, it fights acne-causing bacteria. With antiseptic and anti-inflammatory properties, the oil reduces redness and heals infections faster. Also acting as an emenagogue, it promotes hormonal balance by promoting the secretion of hormones such as estrogen.
Theories/Speculation
A small study done in Turkey and published in Phytotherapy Research online reported that drinking 2 cups of spearmint tea a day reduced levels of male hormones called androgens that stimulate excessive hair growth (hirsutism) in women. The researchers concluded that consuming spearmint tea may help mild hirsutism. Androgens also trigger acne and cause infertility, along with hirsutism, in a condition called polycystic ovarian syndrome (PCOS); theoretically, spearmint may clear hormonal acne in women suffering from PCOS.
Considerations
While many over-the-counter products claim to cure acne in a matter of days, the truth remains that acne is a complex skin condition with no miracle solutions. No single remedy works for every acne sufferer and it often takes months of experimentation to find an effective preventive regimen. Though spearmint alone may not cure the condition, it may be worth a try, given that it is harmless and may address some of the core factors of the condition.