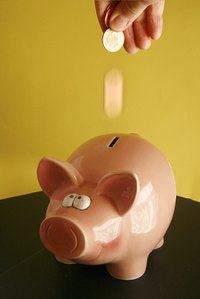 European interest rates are somewhat standardized due to the involvement of the European Union. Understanding which countries offer the highest and lowest interest rates is a significant aspect of international business. In today's global economy, consumers can shop around for the highest savings rate available. This type of competition, combined with the recent recession, has had an effect on interest rates worldwide, particularly as regards savings rate.
Europe
Europe is made up of 47 independent countries, 27 of which are part of the European Union. The financial systems in Europe are governed by largely by the Bank of England and the European Central Bank.
Freezing Interest Rates
In August 2009, the Bank of England (BoE, central bank of the United Kingdom) and the European Central Bank (ECB, the governing financial body of the European Union) announced that a freeze on interest rates would be imposed. England froze its interest rates at 0.5 percent. The European Central Bank, understanding the expected weaknesses inherent in the economic recession, opted to provide a slightly more generous interest rate, freezing savings interest rates at 1 percent.
Recession
As the global financial crisis has become more dire, central banks across the world are freezing savings interest rates with the aim of stimulating global Gross Domestic Product (GDP) and improving credit flow, both of which are crucial considerations in improving economic conditions. The interest rate freeze is starting to lift. Norway was the first European country to lift the savings interest rate freeze, preceded worldwide by Australia and Israel.
Norway
On Oct. 28, 2009, Norway lifted its freeze on savings interest rates, raising rates from 1 percent to 1.5 percent. This move is the first in a series of signals indicating a end in sight to the global recession. The rise is intended to offset a financial stimulus package being introduced by the Norwegian government. Norway, with its strong involvement in the oil and gas industries, has had a relatively mild time of the current recession. Norway government officials are expecting savings interest rates to reach 2.75 percent by the end of 2010.
What Does This Mean for Consumers?
As interest rates improve, many consumers in the European market may be tempted to transfer savings accounts to banks and financial institutions in Norway; however, while doing so would not necessarily be an unwise thing to do, it should be observed that it is also a beginning of a trend. As the world economy begins to strengthen, credit card rates are expected to increase. Consumer loans, business loans and lines of credit may also experience this type of increase. Currency rates will be more volatile than before. High interest rates may also negatively impact investment portfolios, bonds in particular.