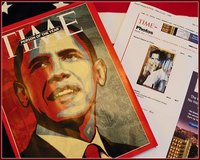 President Obama's tax-relief program is meant to be a comprehensive reform of the tax system. It places more of the burden on wealthier taxpayers and less on the middle classes and the poor. It also seeks to close corporate tax loopholes. The plan has breaks for small businesses, for seniors and for families with children in college.
Basic Features
The president's proposed tax-relief package introduces universal mortgage credit for homeowners, and a substantial credit for people with children in college; a family making $75,000 or less could expect roughly a $500 cut from the former and $4,000 from the latter. The plan also promises simplification of the tax code. Under the "Making Work Pay" package, working couples could expect cuts between $500 and $1000 depending on income.
Business Relief
The plan includes tax relief for small and medium-sized business in the form of subsidies if the business remains in and and re-invests in the United States. Tax credits are promised to businesses that are generous with health-care packages. In addition, the plan promises tax credits and cuts for businesses that invest heavily in innovation, research and development.
Closing Loopholes
The plan says closing corporate tax loopholes will provide money to pay for the tax cuts others receive. These loopholes include tax breaks for the oil and gas industry, special interest loopholes and foreign tax-break credits. In addition, the Obama tax-relief plan seeks to close offshore tax havens.
Effects
The administration believes that these tax breaks, cuts and credits will lower the percentage of taxes as a part of the Gross Domestic Product (GDP). Taxes will amount to less than 18.5 percent of the GDP, which is less than under President Reagan. Taxpayers earning more than $250,000 yearly will see a slight increase in income tax rates, from 20 percent to 24 percent.
Controversy
Some analysts doubt the feasibility of this plan. Peter Roff of U.S. News and World Report holds that Obama's health-care package will cost more than the above belt tightening accounts for. Roff says Obama has already begun to back away from his tax plans, and has indicated that he needs more money from the middle classes to pay for health-care reform.