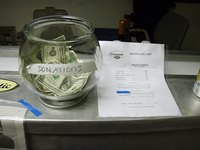 All of us have unexpected expenses at times that we do not plan for. While you may be fortunate to have enough money in savings to take care of these expenses, others don't have that option. If you need short-term financial assistance, you may apply for cash advances. It is to your best interest that cash advance companies do not pull Teletrack because it can provide negative information. If you qualify for a cash advance, you should expect an annual percentage rate of as much as 500 percent, whereas, standard credit card cash advance rates range from 15.88 percent to 17.30 percent.
What are Cash Advances?
Cash advances are small short-term loans that are provided to accommodate unexpected expenses and emergencies that we all experience from time to time. Teletrack may be used to determine if you qualify for cash advances. Teletrack is a credit consumer reporting agency that displays an applicant's positive and negative credit factors with high risk companies such as other payday lenders, rent to own businesses, consumer finance companies, credit unions, credit cards issuers and cable companies.
Qualifications
Since cash advances that do not require Teletrack have little credit requirements, there are other qualifications for these loans. You usually must be at least 18 years of age and have a valid Social Security number. You must be able to prove you have a stable job where you have worked for at least six months to a year and have enough income to repay the loan, usually at least $1,000 a month.
Benefits
These loans benefit borrowers because it allows them the ability to meet their short-term financial goals. Since the ability to obtain these cash advances do not rely on Teletrack status, you are still able to obtain the cash advance even if you do not have the best credit.
How Much Can I Get?
The amount of the cash advance given to you will depend upon your employment history, as well as your income. The amount of cash advance given will be dependent upon the investigation that the company does regarding this information. However, cash advances can be as much as $1,500.
How to Find a Cash Advance?
You may be aware of cash advance companies in your neighborhood. If not, family and friends may be able to point you in the direction of a great cash advance company. Before applying for a cash advance, check with the lender to ensure they do not pull Teletrack for their applicants. If you still need help finding a cash advance company, search the Internet. You will be able to find numerous lenders through payday search websites, such as Payday Loan Advisor.