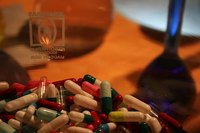 Erectile dysfunction, also known as impotence, is the inability to get and keep an erection in order to perform sexual intercourse. Antihypertensives, also known as blood pressure medications, are designed to treat people with prehypertension (a condition indicating that development of high blood pressure is inevitable) or hypertension (already occurring high blood pressure). When being treated for high blood pressure, these medications can sometimes cause erectile dysfunction either due to decreasing blood flow to the penis or eliminating zinc in the body, which creates testosterone. However, there are medications that do not cause dysfunction.
Thiazide Diuretic and Beta-Blockers
Although thiazide diuretics and beta-blockers may cause erectile dysfunction by decreasing blood flow into the penis, blocking nerve impulses that lead to an erection and constricting arteries to let in blood, they don't for everyone, according to mayoclinic.com's article "High Blood Pressure (Hypertension)." Diuretics cause the kidneys to flush out excess salt and water buildup through urine. By flushing out salt, blood pressure is lowered. Beta-blockers work by blocking hormones such as adrenaline. By doing so, the heart rate slows and decreases the force of pumping blood. Beta-blockers also block angiotensin II, a hormone that comes from the kidneys. As a result, blood vessels relax and become wider. This allows for blood to flow better.
ACE Inhibitors
Blood pressure medications that do not cause erectile dysfunction are called ACE (angiotensin-converting enzyme) inhibitors. They slow or prevent the enzyme ACE from being active, which then slows or prevents the hormone angiotensin II (a protein that causes constriction of blood vessels) from developing. The result is lower blood pressure, because the blood vessels enlarge. ACE inhibitors also are effective in preventing kidney failure brought on by high blood pressure. Medication that ends in "pril," such as benazepril, captopril and enalapril, are ACE inhibitors.
ARBs
ARBs (angiotensin II receptor blockers) also block angiotensin II activity. By doing so, blood vessels enlarge and blood pressure is reduced. This medication has effects similar to those of ACE inhibitors but is selected when ACE inhibitors can't be tolerated for various health reasons.
CCBs
CCBs (calcium channel blockers) can also treat high blood pressure without causing erectile dysfunction. While ACE inhibitors and CCBs are effective in lowering blood pressure, CCBs don't have the same effect in preventing kidney failure that ACE inhibitors do, according to medicinenet.com. Kidney failure can be caused by high blood pressure.
Treating Erectile Dysfunction with Other Medication
As long as hypertension is controlled, drugs that help with erectile dysfunction such as Viagra, Levitra and Cialis will enable a man to get and maintain an erection. These drugs work by causing the penile blood vessels to relax and open. However, one must be sexually aroused for the erection process to occur.