Hip and lower back groin pain are often caused by a strain in the two sacroiliac joints (right and left side), which is where the sacrum bone attaches to the lillium (upper hip bone). The pain can also originate from the pubic symphysis, the joint that connects the right and left pubis bones at the bottom of the large pelvis (large circular ring that makes up the hip). Pain usually occurs because of strained ligaments in these two joints, either from running, heavy physical activity or a forceful impact. Treatment can include, hydrotherapy, medications, injections, exercise and manipulation.
Identification
Symptoms from pain in the sacroiliac joints and pubic symphysis usually include chronic lower back pain and sciatica, a radiating pain that shoots down the lower back and hips. This area absorbs a lot of force from both the femur (leg) bones and upper body. According to rehabilitation specialist Dr. Ross Hauser, in his Caringmedical.com article "Sports Injuries: Pelvic, Hip, Groin and Low Back Pain," athletes with chronic back pain might have been easily treated if their public symphysis had also been properly examined.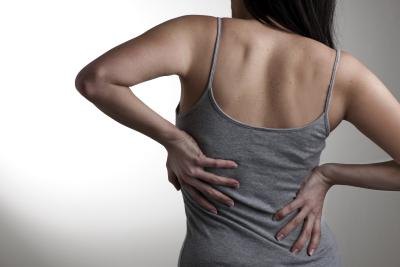 Effects of Rest and Hydrotherapy
Any person or athlete who has hip and lower back groin pain should rest, which will prevent further aggravation of the injury. During this period, hydrotherapy (cold and warm water treatments) can help alleviate painful sacroiliac and pubic symphysis joints. Adding ice to water will initially limit blood flow to the region, which helps reduce inflammation and pain. Ice is highly effective when used within 48 hours after the onset of an injury. Subsequently, very warm water treatments will help promote blood flow (with its healing properties) to the affected area.
Types of Medical Treatment
Anti-inflammatory medications such as ibuprofen and naproxen can provide temporary relief for hip and lower back groin pain. But injections are sometimes needed to block pain stemming from these delicate joints. These are called facet rhizotomy injections and relieve pain by disabling sensory nerves leading to the joint.
Types of Exercise
After a period of rest, hydrotherapy and medical treatment, once initial swelling and pain have been reduced, a combination of stretching, strength-building and low-impact cardiovascular exercise can benefit a person with hip, back and lower groin pain. These exercises can be prescribed by an orthopedic doctor, or a person can have a physical therapist take him through them.
Benefits of Chiropractic Help
Chiropractors can help manipulate a person's spine and stretch seldom-used muscles and joints for hip and lower back groin pain. They can also educate a person on certain lifestyles changes that will help their recovery: changing shoes, different sitting positions for work, etc.