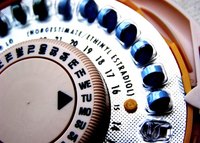 Usually, women only experience vaginal bleeding during their menstrual periods. Seeing blood appear when it is not time for menstruation can be alarming. However, breakthrough bleeding is not uncommon, especially among women who are using birth control pills and other hormonal birth control solutions. Furthermore, it is not always cause for alarm.
Fluctuating Hormones
Birth control pills and other hormonal birth control products, such as patches and injections, release hormones into a woman's body, altering the balance of hormones that are naturally present. Often, hormones used in birth control are similar to those already present in the woman's body. Birth control solutions may simply release more of these hormones than normal or release them at times that differ from the body's natural schedule.
Breakthrough Bleeding
When a woman on birth control has spotting between periods, it is often referred to as breakthrough bleeding. This bleeding, typically caused by fluctuating hormones, isn't usually as heavy as a full period. It's typically light and requires only the use of a panty liner to protect the underwear and clothing. The spotting may last for one day or several, and it may come and go. It may include bright-red blood or brownish discharge.
Time Frame
Breakthrough bleeding may occur at any time, but according to Planned Parenthood, it is more likely to occur during the first few months a woman is taking birth control pills or using a birth control patch. Likewise, spotting is more likely to occur in the early period of taking Depo Provera (medroxyprogesterone acetate), a form of injected birth control. According to Pfizer.com, breakthrough bleeding is less likely to occur once a woman has received injections of Depo Provera for a full year. Menstrual periods may stop altogether after a year of continuous use.
Solution
For some women, the solution to birth control-induced spotting may be waiting for the body to adjust or get used to the hormones. Eventually, the spotting may stop. According to DrDonnica.com, however, breakthrough bleeding may happen less frequently in women who take birth control pills that contain higher amounts of estrogen. Sometimes, switching pills may help.
Missed Doses
Some women spot when they miss a birth control pill or two or take a dose later than suggested. Though forgetting pills may not harm your body, it can lead to unplanned pregnancy. If you've missed pills or taken them late and you miss a period, visit your doctor for a pregnancy test.
Warning
Though breakthrough bleeding can be normal, consult a doctor to be sure. Sometimes bleeding between periods can be a sign of an infection, pregnancy or vaginal irritation. In some cases, it can even be a sign of cancer.