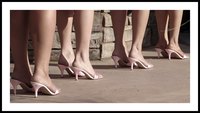 Many women commonly face the dilemma of hair removal. Two popular options today can be found in shaving and hair removal creams, but it can be hard to decide which one may be best for you. Learn a little more about the pros and cons of these treatments in order to find the one that fits your lifestyle.
Basics
Shaving is probably the oldest and most common form of hair removal. There are many tools you can use if you opt for shaving to remove leg or body hair. You can use a razor and shaving cream at its most basic, or use electric shavers, which are more convenient but slightly more expensive. Hair removal creams, on the other hand, are creams applied to skin that dissolve hair at the skin's surface and just below.
Re-Growth
For some women, the lasting effects of hairless skin is a priority in hair removal. While shaving and hair removal creams both offer the result of silky-smooth skin, hair can reappear anywhere from one to four days after shaving for most women. Hair removal creams, on the other hand, typically remove hair for anywhere from one to two weeks.
Convenience
Both of these forms of hair removal also offer a certain level of convenience. Shaving is relatively easy, but can be a messy process if you opt to use shaving cream and a razor. However, if you opt to use an electric razor, shaving can be easy and can be done both in and out of the shower and on the go. Creams are also fairly easy to use; simply apply and rinse off after a few minutes.
Problems
While both shaving and creams offer convenience, they also carry with them some cons that may help you decide. Shaving can sometimes cut your skin, leaving painful nicks and scars to deal with. Shaving can also leave razor burn as well as ingrown hairs. Creams also can be bad for skin, as the chemicals in them can leave a burning feeling or cause allergic reaction. Most creams also have a pungent chemical smell that can be unpleasant for some.
Prices
Basic razors and shaving creams can range in price from a few dollars to around $13 for a nice razor. If you opt for an electric razor, they can run from around $20 to $50, depending on the quality you want. Most hair removal creams are also relatively cheap and can cost anywhere from $8 to $30.
Tips and Warnings
When shaving, remember to shave in the direction the hair grows in order to avoid ingrown hairs or razor burn.
Make sure to go slow and take your time shaving around areas such as ankles or knees, as skin is more susceptible to nicks in those areas.
Always test an area of skin before using removal cream all over your legs, to ensure you won't have an allergic reaction.
Creams are high in chemicals, so make sure you keep them away from sensitive skin, eyes and face.