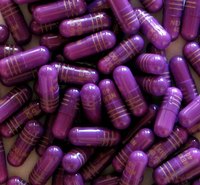 The pharmaceutical industry has been a powerful and dynamic industry in the past 10 years, growing even when other industries (like tech stocks) have taken sharp downturns. However, due to the financial crisis of 2008 and subsequent economic recession, economists predict that pharmaceutical industry growth will slow in the coming years, despite strong past performances.
History
Most modern drug companies were formed in the early 20th centuries; the discoveries of insulin and penicillin lead to a developing industry for manufacture and distribution. Pharmaceutical companies continued to grow and evolve through the 1950s and 1960s, with the development and production of drugs like cortisone, heart medications, chlorpromazine, valium and "the Pill."
By the 1980s, India had become the primary producer of drugs without patent protection (generics), and pharmaceuticals had moved into drugs for cancer and AIDS. Since the 1990s, the industry has adapted to a changing role by using direct-to-consumer advertising and with the production of SSRIs like Prozac (fluoxetine).
Pharmaceutical Expansion, 1990-2008
Thanks to the revenues from only several blockbuster drugs (defined as a drug that earns more than $1 billion a year), which accounts for roughly one third of market value for pharmaceuticals, the pharmaceutical industry expanded during the 1990s and into the 2000s.
These best-selling drugs continue to earn a high percentage of total revenue for big pharma. The leading blockbuster drug, Lipitor by Pfizer, brought in more han $12.2 billion in 2007. Plavix by Bristol-Myers Squibb and Sanofi-Aventis; Celebrex by Pfizer; Prilosec and Nexium by AstraZeneca; and Lovenox by Sanofi-Aventis, earned an additional $17 billion combined for their respective companies.
Industry Considerations
Big pharma is a game of innovation, research and development and the race to find the next best-selling drug. Since blockbuster drug sales dominate revenues for many firms, pharmaceutical firms must engage in expensive research to try to find new drugs. Since most chemical compounds ultimately do not go on to become blockbusters, finding the next big drug is a costly process. To offset the large up-front costs to pharmaceutical companies, once firms develop a drug that gains FDA approval, the patents on that drug allow the pharmaceutical firm to recover the costs of research and development.
Future of the Industry
The future of the industry looks guarded. There will be a reduced but still positive growth. IMS Health, a healthcare market research firm, issued a report in April 2009 cutting back the growth forecasts for pharmaceutical sales from 4.5 to 5.5 percent to only 2.5 to 3.5 percent in total sales, down from a prediction of $820 billion to $750 billion). This is largely in response to the economic downturn beginning in 2008, suggests a senior executive at IMS, and the "correlation between demand for medicines and ... key economic variables."
Theories/Speculation
Several blockbuster drugs are due to expire in the next few years, such as Pfizer's Lipitor in 2011 and AstraZeneca's Nexium in 2014, possibly endangering the revenues of the pharmaceutical industry for the next three to five years. IMS predicts that the growth rate for pharmaceutical firms will hover around 3 to 6 percent moving into 2010 to 2012, down from the average rate of about 7 perecent from 2004 to 2007, as a result.
Predictions also suggest that demand for medications might fall in the developed world (especially the United States, by perhaps 1 percent), further reducing revenues for big pharma, although some of this decline will be offset from rising purchases in the developing world, especially Russia, South Korea, Mexico and China.