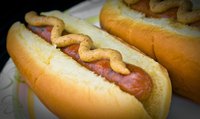 Hot dogs are one of the best selling food products on the market. In the United States, consumers spent "more than $3.4 billion on hot dogs and sausages" in 2008 alone, according to the National Hot Dog and Sausage Council. Americans consume about 7 billion hot dogs between Memorial Day and Labor Day, which is considered "Hot Dog Season." For years, Sabrett hot dogs have been promoted as "New York's # 1 Hot Dog." That says a lot. Especially since New York was named 2008's top hot dog consuming city in the United States, with $107,275,300 spent on hot dogs. With so many hot dogs being eaten a year, just how healthy are Sabrett "world famous" frankfurters?
Types
Sabrett offers three different types of hot dogs. All Beef Natural Casing, All Beef Skinless, and Pork and Beef Natural Casing. The most popular is the "All Beef Skinless" frankfurters which are specially made for grilling and pan-frying, and are sold at sports stadiums and amusement parks. These are available in different sizes, including foot-long and cocktail. The "All Beef Natural Casing" frankfurters are typically sold by New York street vendors.
Nutrition Value
One Sabrett beef frankfurter (plain, no bun or condiments) is 140 calories. Of those calories, 110 are from fat. Sabrett hot dogs also contain 12g (19 percent) of total fat, 5g (24 percent) of saturated fat, 30mg (10 percent) of cholesterol, 410mg (17 percent) of sodium and 6g of protein. These hot dogs offer little to no vitamin benefits. One hot dog contains only 4 percent of iron and 2 percent of the daily recommend allowance of vitamin A, vitamin C and calcium. These percentages are based on an average 2,000-calorie diet.
Sabrett hot dogs offer almost exactly the same nutrition value as other hot dog brands. On average, one plain hot dog is about 130 to 140 calories.
Preparation
How you prepare a Sabrett hot dog can change its nutrition value. For instance, frying it in cooking oil can add additional calories and fat. Salt can increase the amount of sodium. Adding a bun and condiments can also greatly increase the calories of a hot dog. The average hot dog bun is about 120 calories. One serving of ketchup or mustard is about 15 calories, and sweet relish is about 20 calories.
Ingredients
According to the official Sabrett website, all frankfurters contain beef, water, salt, sorbitol, flavorings, paprika, garlic powder and hickory smoke flavor. Sabrett hot dogs contain no extenders or fillers.
Dietary Considerations
Sabrett hot dogs are wheat and gluten free, but are not Kosher. They also contain the sweetener Sorbitol. Sorbitol has been approved by the US Food and Drug Administration and is safe "for diabetic use in small doses." If you're diabetic and have any concerns about Sorbitol, please speak to your doctor.