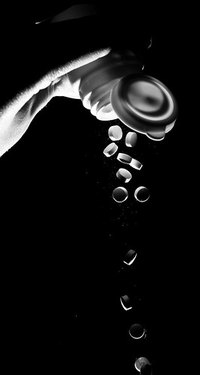 Phenylalanine, also called L-Phenylalanine, is a dietary supplement that can be taken to ease the symptoms of depression, attention-deficit/hyperactivity disorder (ADHD) and Parkinson's disease, as well as to provide temporary relief from pain associated with rheumatoid arthritis. It is an amino acid that the body does not produce on its own and must be acquired through food or supplements. Like most supplements, phenylalanine has potential side effects that may require medical attention.
Common Side Effects
According to Prevention, side effects of phenylalanine that are considered common but not serious include heartburn, nausea, constipation and mild headaches. These symptoms generally do not require medical attention, but patients should contact their physicians should they become more pronounced, extensive or uncomfortable.
Serious Side Effects
Serious side effects associated with phenylalanine include insomnia, confusion, dizziness or intense headache. A patient experiencing these symptoms should seek medical attention and consult with a physician before continuing phenylalanine doses.
Severe Side Effects
According to PDRHealth, severe side effects associated with phenylalanine include tightness or sharp pain in the chest, difficulty breathing and a sudden increase in heart rate or blood pressure. Symptoms of allergic reaction to the supplement include sudden rash or hives and swelling of the face, neck, lips or tongue. A patient experiencing these side effects should seek immediate emergency medical attention.
Existing Medical Conditions
According to the University of Maryland Medical Center, phenylalanine can cause unusual anxiety and jitters, especially in children. Thus, children being treated for ADHD must have their phenylalanine doses carefully monitored to prevent serious episodes of hyperactivity. Women who are pregnant, plan to become pregnant or are breastfeeding should not take phenylalanine supplements.
Drug Interactions
Phenylalanine has the potential to adversely interact with antipsychotic medications prescribed to treat schizophrenia, depression and bipolar disorder such as thioridazine, clozapine and haloperidol. This may result in symptoms of tardive dyskinesia (involuntary movements of the limbs, facial muscles and tongue). Phenylalanine may also diminish the effectiveness of levodopa, a medication prescribed to ease the symptoms of Parkinson's disease.