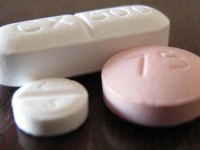 Phentermine is commonly prescribed as an appetite suppressant for obese patients. According to the U.S. Drug Enforcement Administration, Phentermine is the most widely prescribed and most frequently encountered diet pill on the market today. Phentermine hydrochloride, the single active ingredient in Phentermine, has known side effects and should be used with caution.
Hydrochloride
Phentermine hydrochloride is the only active ingredient in Phentermine tablets. According to Daily Med, hydrochloride is a white, odorless, hygroscopic, crystalline powder which is soluble in water and lower alcohols, slightly soluble in chloroform and insoluble in ether.
Phentermine hydrochloride, an anorectic agent to be taken orally, is administered in tablets containing 37.5 mg of Phentermine hydrochloride (equivalent to 30 mg of Phentermine base).
Usage
Phentermine hydrochloride is an anorectic and is prescribed for short-term weight loss in obese patients. This medication should be taken on a daily basis two hours after breakfast, and should be ingested at least 10 hours prior to bed, as it is known to cause insomnia.
Hydrochloride acts as a stimulant on the central nervous system, and is only effective on a short-term basis. Physicians should prescribe this medication for a time period no longer than three consecutive months.
Side Effects
Phentermine, also known under the brand names Adipex and Fastin, carries a number of known side effects, although it has proven safe by the FDA. Possible side effects can include insomnia, depression, nervousness, irritability, dry mouth, dizziness, increased blood pressure, blurred vision, headache, nausea and change in sex drive.
Consult your doctor immediately if you notice any serious side effects such as chest pain, trouble breathing, swelling in lower extremities, decreased ability to exercise or fainting
Precautions
Caution is advised while using Phentermine in certain cases. If you are pregnant or nursing, you should not use this drug. Appetite suppressants are not recommended for infants and children under the age of 16, as adequate research studies are not available.
You should discuss with your physician if you suffer from any disorders such as glaucoma, mental illness and alcohol or drug abuse prior to starting Phentermine. Certain medications can affect the outcome or react negatively when taken in conjunction with Phentermine hydrochloride; speak to your doctor if you plan on taking any other medication alongside this anorectic.
Warning
Phentermine hydrochloride is highly addictive and should only be taken for a short period. When you and your doctor decide it is time for you to discontinue this medication, get advice on how to stop.
If this medication is abruptly discontinued, serious side effects and withdrawal symptoms can occur. These characteristics are very unpleasant and can consist of extreme drowsiness, depression, anxiousness, headaches, fatigue and weight gain. Speak to your physician if you encounter any of these symptoms.