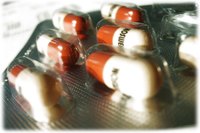 Lipicard, a medication whose active ingredient is Fenofibrate, is a drug that treats individuals with high cholesterol levels. Use of this drug may lead to mild and severe side effects depending on the particular individual and the size of the dose.
Identification
Lipicard is considered a lipid-lowering agent. As such, it helps to lower the levels of cholesterol in the body by decreasing the liver's production of triglycerides. Drugs.com reports that It also eliminates triglycerides already present in the bloodstream. In combination with a strict diet and exercise plan, the use of Lipicard can be very effective.
Common Side Effects
Although many users of Lipicard have reported no common side effects, some users have commonly experienced headache and nausea as a result of taking the medication. Though not serious, worsening cases of either side effect may be a reason for concern. Report worsening or persistent side effects to your doctor immediately.
Severe Side Effects
Drugs.com reports that users may experience the following severe side effects in rare cases: "...chest pain; chills or sore throat; coughing; dark urine; fever; muscle pain, tenderness, or weakness; pale stools; red, swollen, blistered or peeling skin; severe or persistent dizziness or lightheadedness; severe or persistent nausea, stomach pain, or vomiting; severe pain or swelling in the ankles, feet, or legs; shortness of breath; unusual bruising or bleeding; yellowing of the skin or eyes." Seek immediate medical attention as soon as any of the preceding side effects occur.
Use
Always closely follow your prescription provided by your doctor. Never alter the dose size or length of use. Take Lipicard orally with an 8-ounce glass of water and swallow the pill whole. Be sure to follow a strict diet and exercise plan to make your use of Lipicard most effective. Never take a double dose of Lipicard to compensate for a missed dose.
Warning
Do not consume alcohol while taking Lipicard. Since dizziness may occur as a result of use, avoid driving until you know how the medication specifically affects you. Use with extreme caution in the elderly and children.