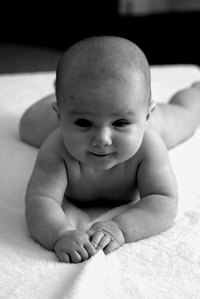 A daycare is a facility where babies, toddlers and small children are cared for while parents are away for a temporary period. Most daycares are based in someone's home, operate in a separate building devoted to care or are contracted out as part of an employee's benefits. Daycare officials need to set up policies that help owners and workers provide consistent and effective care for young children and their parents.
Hours of Operation
State the hours of operation. Most daycares cannot remain open 24 hours a day. Owners and workers typically set up a specific time frame when children may be dropped off, cared for and picked up. Many daycares open early in the morning to accommodate a parent's commute. Some open up as early as 5:00 a.m. Many daycares are also open later in the afternoon to help accommodate the needs of parents who are working late. Most will stay open until at least 5:00 or 6:00 in the evening. Many remain open as late as 9:00 at night.
Feeding Policy
Establish a policy about feeding. Young children who spend hours with caregivers need to be fed during this period. A nursing mother may opt to collect breast milk during the day to be fed to her infant the next day. A mom may also choose to opt to have daycare officials feed her infant a chosen formula. Older babies should be offered solids. Daycare officials should decide how often to feed children as well as what to feed them. Many parents choose to provide specific daily snacks for their children.
Some daycares provide food, while others require that meals be sent with the child but do provide snacks.
Sick Children
Create a policy for sick children. Babies and small children easily catch colds and other more serious illnesses. In order to help children remain healthy and avoid spreading disease to other children, most daycare centers recommend that parents avoid sending a sick baby to a childcare facility. Most officials recommend keeping a child home if the child has signs of illness such as high fever. Parents and caregivers should carefully discuss this policy before they place a child with a daycare center.
Holiday Policy
Decide on a holiday policy. Many parents have a certain number of holidays off each year. They may not need daycare on Thanksgiving or Memorial Day. Daycare center employees may prefer to spend time with their own families during this time. Parents and the daycare provider should discuss this policy together. Map out which holidays each client has off well in advance. Discuss this policy and indicate whether or not care will be available on that holiday if the client does not have the day off.
Fees
State all fees in advance. Daycare providers charge to care for children. Financially needy families may have costs provided by the state. Others may pay for care on a weekly or monthly basis. Caregivers and clients should discuss the form of payment preferred (cash, check or credit card) as well as any possible additional fees such as extra penalties for lateness. It must also be clear to both parties whether fees are due if the child is sick or if the parent chooses not to send the child to daycare. Daycares have expenses that must be met (salaries, rent, etc.) and have set fees that are due, whether or not the child attends the facility all or only part of the time.